Is it possible to cheat in Vikings: War of Clans?
Yes. Cheats can be implemented using different apps and techniques. Vikings Hacks and Hacked game files (APKs and IPAs) can be used to automate tasks, speed up the game, mod the interface, show more info and more. Bots can be used to automatically build, farm invaders, bank, scout, attack, help guild mates and farm loyalty points, gold and resources. Alternate accounts can be set up through VPNs without getting banned to set up farming accounts, mules, banks and those can be automated using bots and script apps to auto build and auto shield them. The only ways to get unlimited gold and free coffers / packs /chests is through very rare exploits, there are no War of Clans generators for download, since this data is stored on the game servers belonging to Plarium.

Find and Download Vikings War of Clans Hacks and Bots today!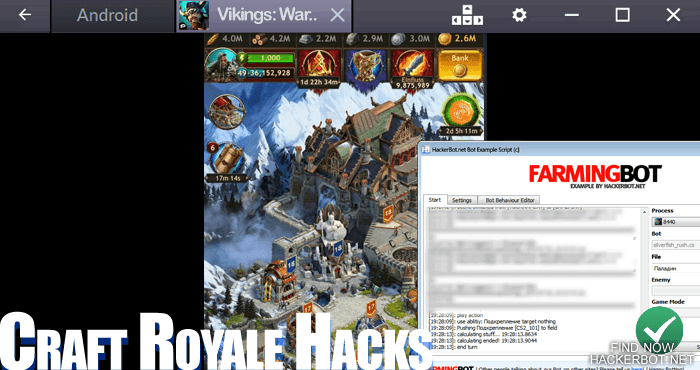 For Educational Use Only
War of Clans Hack Apps and Tools
There are 2 different ways to hack the game, either through memory editing requiring a rooted phone and memory editing tools or using premade hacked game files, such as Vikings hacked APKs for Android or modded IPAs for iOS. Cheating in the browser game is possible too using modded flash game clients, but is less popular. However, downloading hacked apps can be dangerous,  since most offers are either scams or malware. So be very careful when looking to download Vikings WoC Hacks. Options commonly include auto building, auto troop training, auto loyalty points farming and most importantly invader farming. These cheats are pretty powerful and can do a lot of the work for you without you having to manually go in and grind.
Keep in mind that unlimited gold, resources, castle levels, packs, gear and boosts cannot be hacked using any kind of tool or generator, since this is an online multiplayer game and all the integral data concerning your player account is stored on the game servers hosted by the developers that cannot possible be accessed and written. The only way to get unlimited gold is through exploits or a game admin.
Vikings: War or Clans Bots and Auto Builders
As in other mobile games and browser games, it is possible to set up programs, either custom software or simple macro recorders to log into the game automatically and perform actions for you. Actions in War of Clans that can be easily automated include: Farming intruders, putting up shields, sending resources, helping guild mates, collecting rewards, upgrading buildings, banking resources, raiding players, scouting, upgrade gear and armor to legendary, choosing knowledge research and a lot more.
Bots are commonly run either directly on your mobile device as an app that connects to the server, a program on PC that bots directly or uses an emulator to play the game manually or they can even be set up using macro recorders to record user input on PC and replay it to automate actions. – Bots are the most powerful and versatile cheat to use in Vikings: War of Clans and are the closest you will get to an unlimited resources and gold cheat. Also the script route of cheating allows you to save time that you can spend in real life, leaving you to come back and enjoy the spoils instead of grinding 24/7/365.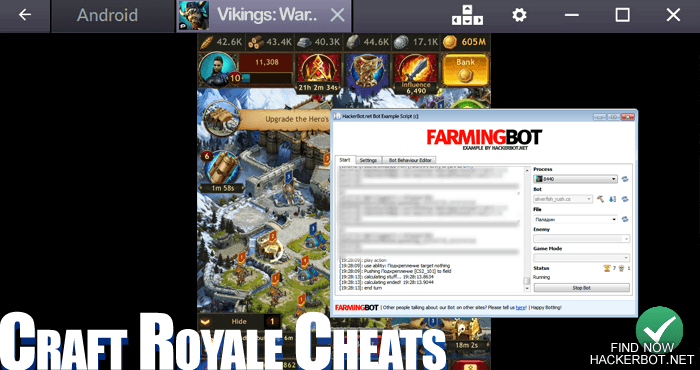 Using alt accounts for cheating + automation
The best players in War of Clans are using a lot of alternate accounts to feed resources to their mains, to use them as banks and so on. Essentially what you need to use multiple accounts at one time without getting banned for it and so send resoruces to yourself, have your mule guild and so on, is at least one PC, at least one VPN to change your IP Address for every instance of the game and a lot of time.
Players will have multiple devices and emulators logging into multiple accounts, have them all in the same guild, combine troops for attacking and farming, using certain accounts as banks that are constantly shielded and cannot be attacked to store and save resources, use some accounts as resource slaves and so on. – Essentially this is an incredibly powerful way of cheating, but will require you to have multiple devices, preferably PC + emulator and a VPN to mask your IP to avoid bans. If you want to be the top player on your server, you will need this, every top player does it.
Is it legal to cheat in Vikings: WoC?
Using cheating software, be that a hack or bot is absolutely and 100% legal everywhere in the world. While it is certainly frowned upon to circumvent the rules of a game and gain an unfair advantage, it is nevertheless something people chose to do commonly. The worst thing that can happen is your account getting banned, which is easily avoided by downloading quality cheating software that is up to snuff and kept undetected at all times by skilled coders.

Are Unlimited Gold Generators for real? Can I get free Gold in Vikings?
These generators are about as real as this one generator I found that totally generated me a real life Russian girlfriend for real and legit. – By which I mean NO, they are obviously all fake. It is impossible to change your gold / money value in online games, unless the developers are absolutely stupid, which they are not. So don't fall for all the malware, survey offers, human verification and so on that will leave you spending money, time and effort and downloading fake hacks or nothing at all.