Is there a way to cheat in Paladins?
Yes indeed there are multiple kinds of cheats for Paladins: Aimbots will allow you to automatically aim and shoot at your opponents for more damage dealing and therefore points, kills, gold and XP overall. ESP hacks "wallhacks" will allow you to see enemies through terrain, allowing you to easily find and kill them. There may also be some possibilities for AFK farming bots and other kinds of automated farming. Exploits will probably be pretty rare, but there is still a possibility for drop hack exploits and similar in Paladins.

Is it legal to cheat and will I get banned for doing it?
Cheating in any kind of game including online games or arena shooters in this case is 100% legal all over the world. However, HiRez does have the right to ban people from any of their games and services. – Therefore it is recommended that whenever you use any kind of Hack for Paladins, you make sure you use it with respect for other players and use quality software that is 100% undetected at all times.

Find and Download Paladins Hacks today!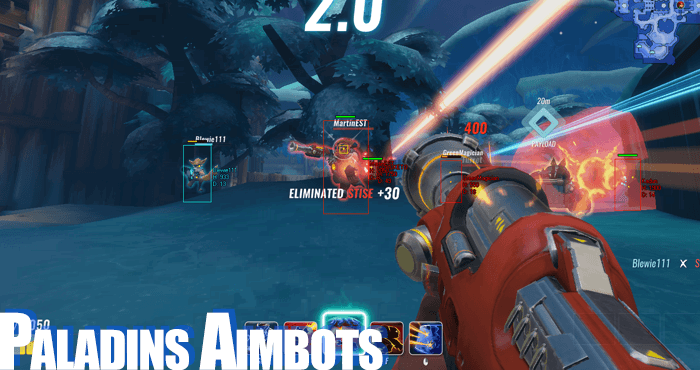 For Educational Use Only
Paladins Cheating Methods
As in any first person shooter, auto aiming software is the dominant way of cheating in Paladins. Aimbots will allow you to automatically aim and use your skills and attacks to deal the maximum DPS possible, which will allow you to farm the maximum amount of gold, EXP and cards possbie. Since there is no real killcam in the game the use of aimbots in Paladins will be less likely to be detected and reported than in other online shooters.
There may also be certain scripts that can be used in combination with aimbots to automatically use your skills and heal yourself and teammates. Hacks can also allow you to run faster (speedhacks), may be able to teleport you, which will make it a lot easier to get to the capture points faster, spawn more siege engines and therefore win more games and get better rewards.
Paladins Aimbots
While aiming in Paladins is not as hard and precise as in a lot of other games, the use of automated aiming software will still increase your DPS output significantly. An aimbot will constantly lock on to a target, allowing you to cast your skills and shoot with almost 100% accuracy. However, you will still be able to die, so this is not a god mode. Overall aimbots will allow you to get more assist score, more kills, pick up more heals and farm more Common, Rare, Epic and Legendary Cards, Credits, XP and so on. When using an aimbot you should always try and keep your accuracy rating normal, but shooting randomly once in a while. Nothing is more suspicious than a player that hits every single shot and ability. Also remember to be nice to your fellow players and respect the game.
Overall aimbots are definitively the best cheat you can use in Paladins.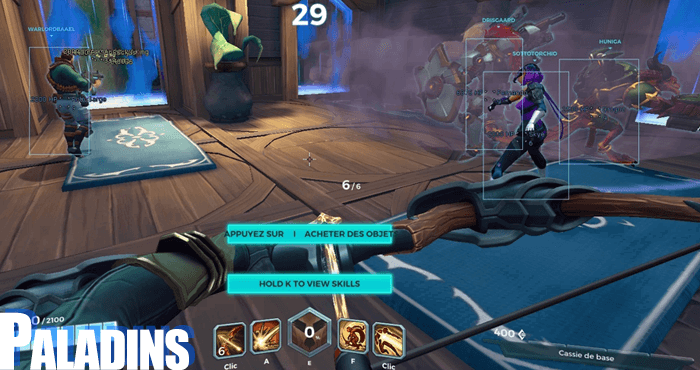 Are there Paladins Hacks for Health, Credits (Gold), Level and Cards?
In online games all the important account data is stored on the game servers and not on your own device, which makes such data unhackable. – Anyone that claims that they have any kind of god mode, unlimited credits, unlimited cards, no cooldowns and so on… These kinds of offers are scams and trying to trick you into filling in surveys. Do not trust them.
Hacks can only change data that is processed on the game client, which includes things like your movement, your position, animations and so on. There may also be clipping hacks that can allow you to clip through objects. But beyond that hacks are pretty useless in Paladins. Also these kinds of hacks are very easily detected compared to wallhacks or aim bots.
Can I Download free Paladin Hacks and Aimbots?
As with all things in life, if you want to have quality and security, it will usually cost you some money to buy the quality aimbot and hack software for Paladins. However, there are some free scrips for Download as well, but these are pretty risky to use, as they are publicly available and will usually get banned by the developers over at HiRez pretty quickly. Since the game is free to play, you may not care much about your account getting banned, but if you have a lot of time invested into your account and maybe bought a bunch of skins, you may not want to risk the Download of such free Paladins Hacks. But as always you make your own decisions. Have fun!