Is it possible to cheat in Top Eleven Football Manager on mobile?
Yes indeed as in most online mobile games and simulation apps, it is possible to cheat in this one as well. Aside from some minor Top Eleven Football Manager Hacks, automated playing software, also known as "bots" are used to automatically train your team, prepare for matches, bid on players on auctions, farm referrals, cash and fans alike. Exploits (bogs in the game) do allow you to get unfair advantages as well once in a while, before the bugs get fixed. However, there are not Top Eleven hacks to get unlimited money, unlimited fans and infinite tokens, legend (9 star) players and so on.
Top Eleven Hacks, Mods and Cheats
Since there are not any hacks for unlimited moneys, player skill points, easy match wins, money, tokens and fans, the best way of cheating is to have a bot or auto playing program (app) play the game for you, train your players, spend their skill points, automatically bid on players that would complement your team and manage it. There are also bots that will automatically sign up through your referral and that way can make your tokens and money automatically. Those are called referral bots. Bots can also be used to get almost any player that you want from the player auction market, since a bot can outbid almost anyone by milliseconds and by placing offers automatically.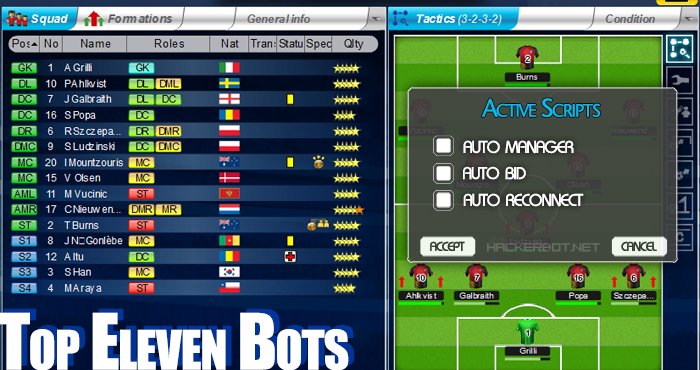 Is there a way to get legend players, money, skill points and edit player stats?
This is a multiplayer online game for mobile devices and that essentially means that all the important information about your account like players, club, money, player stats and so on are stored and processed on the game servers belonging to Nordeus and therefore cannot be hacked. The only way would be to actually hack the Top Eleven Football Manager Servers, which is not only close to impossible, but also highly illegal. So please, do not trust people that offer you hacks for Top Eleven that will give you 100 quality players, unlimited stats, tokens or money ect. They are all trying to scam you into filling in surveys or downloading malware.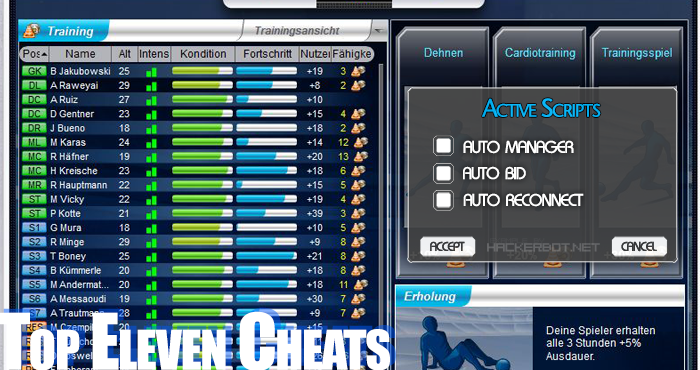 Top Eleven Bot Mods
Want to get the best players available on the market, but you always get outbid in the last second of an auction. Don't worry. Connect your phone (iOS or Android) to your PC to get the best and fastest internet connection possible and then let the bot automatically check the current price for bids from opponents and buy the account for you in the last milliseconds of an auction. This kind of bot is used on almost any game that features auctions with a countdown timer and is very efficient. If two bots are bidding against each other, the one with the lower ping usually wins. In Top Eleven it is the perfect way to get legendary players from auctions easily.
All the cheats mentioned can work on iOS, Android and may also get working for the flash version of the game. However, the programming of the app will have to be different for each of the operating systems. However, the possibilities stay the same across platforms.