Is it possible to cheat in Dragon City for iOS, Android and Facebook?
Indeed as is most mobile and social collecting games, cheating is indeed possible, even though there are no hacks that can give you unlimited gems, gold, platinum, dragon points, stats ect. However, there are automated playing scripts also known as Dragon City "Bots". These robots are able to automatically play the game for you, breed dragon, feed them, collect gold and food for you and so on. There are also some very rare exploits that may allow you to get unlimited resources, extra gems, experience and bugs may also allow you to breed legendary and very rare dragons more easily. However, exploits are extremely rare.
Dragon City Cheats, Hacks and Mods
Since almost everything in Dragon City can be bought with real money, getting unlimited real money would be the most powerful cheat to use. However, since most of us are not billionaires, getting unlimited gems is the next best thing. Sadly, gems, gold, food, platinum, unlocked dragons ect are not hackable by any means and that kind of trick is impossible. So the next best kind of cheat is the automated playing bot, which is able to automatically build your city, upgrade habitats, level up dragons, breed dragons automatically, expand islands, do battle stadium battles, collect gold automatically, collect food and so on from your farms and habitats. So overall the Dragon City bot is the best method to cheat in the game that actually exists. Using scripts to play for you will save you a lot of money and allow you to get to max account level and get all the breedable dragons as fast as possible. However, premium dragons that can only be bought for gems can only be bought with real money. Mods are another popular way of getting Hacks inplemented into the Dragon City game on Android and iOS.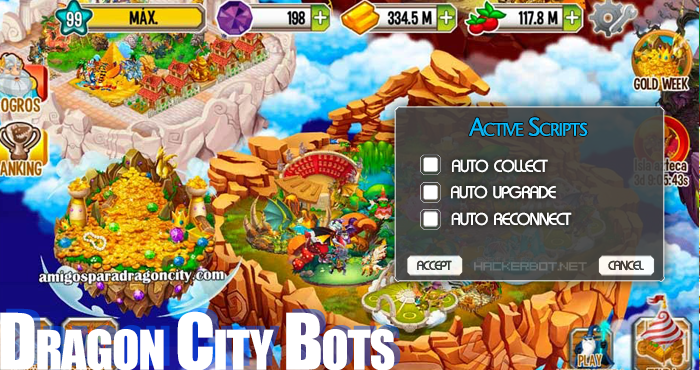 Why aren't there any Dragon City Hacks for gems, gold ect?
If something is hackable depends on whether or not the data is stored on your device that you can root and hack or on an external computer that cannot be hacked. In the case of any online mobile game, those pieces of data are stored on the game server and not on your mobile device or PC. In the case of Dragon City all of the important account data for your account like gems, gold, owned dragons, crystals, islands, eggs, food, XP account level and so on are stored on the Gameloft servers. Anyone that claims that they have some kind of tool, generator or adder that can change these values for you is sadly lying and most likely trying to scam you into filling in surveys or downloading malware. Also if this kind of cheat was possible and free, everyone would use it and the game would simply not exist, since the developers would not make money and therefore would have absolutely no reason to keep the game running.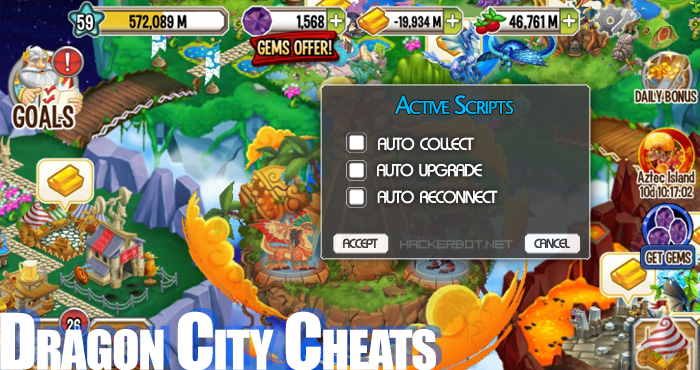 How to I cheat safely? Does it work on all platforms?
When using any kind of bot, you should always make sure that you do not keep the farming software running for more than 16h at a time. Leaving a farming app on a rooted phone or computer running for 24h a day is one of the safest ways to make sure you get banned as soon and the developers want to deal with a bot problem.
Cheating software can do the same things on every platform that Dragon City is run on, which includes Android devices, emulators, iOS and Windows or Mac systems. The only thing that really change is that some software will require a rooted mobile device and the code will change as well from platform to platform, but the possibilities stay the same across devices.