Is it possible to cheat in FIFA 17 in any way?
Cheating both in the normal and the online mode of FIFA 17 is certainly possible by using hacks that can report games as wins and increase your personal score in career mode, bots and scripts that automatically play the game for you and are able to beat human players easily and farm Ultimate Team Coins for you to get more packs and therefore unlock the players you are looking for. However, since FUT is an online component, there are NO generators, adders or simple hacks to unlock all players, get unlimited UT Coins ect.

Is cheating legal and can it be done on all platforms?
Cheating in all games, including video games is completely legal, even in you are playing them online. Cheating software can be run on PlayStation 4, Xbox One, PlayStation 3, Xbox 360 and Microsoft Windows alike. However, the PC is the preferred platform for cheating, since it does not require a hacked console or operating system to run unsigned code.

Find and Download FIFA 17 bots & hacks today!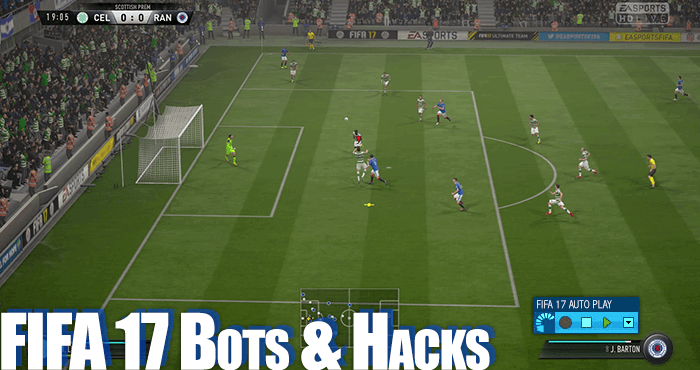 For Educational Use Only
FIF 17 Online Ultimate Team Coin farming Bots
Farming UT Packs is what you want for your online play, since it allows you to get all your most favorite and best players for your team. However, if you don't want to spend a fortune or spend the better part of your year farming manually for the coins to buy the packs, you will want to use a software that does so automatically for you. Bots are not only able to automatically play the game against other players for you, they are also pretty competent at the game, since they have a near perfect reaction time and are able to beat most human players for you. The best thing about bots is that they are undetectable, since they do not inject any disallowed code into the game and merely generate user input, such as pushing buttons.
If you are looking to grind the online mode and get lots of free FUT Packs, then farming bots are what you are looking for.
FIFA 17 Game Win, Player Stat and Performance Hacks
These little programs allow you to report any match as a win and increase your personal score. In single player and career mode you are allowed to basically hack everything about your character, such as your attributes, your score in a match, you can hack the score of the match to win and so on.
In online play however, hacking FIFA 17 match wins is a bit more risky. As in previous installations of FIFA, people will be able to check your match history and report you for cheating if they notice that you have a near 100% win rate. Therefore, we do not recommend you using this kind of cheat in FIFA 17 online matchmaking, aside from the obvious fact that other people will not approve of it at all.
FIFA 17 Scripts – Improve your play
Scripts are a kind of blend of a bot and legitimate play in that they will automatically press buttons for you when you are not able to react quickly enough. So for example a tackle script can be triggered and it will automatically get into the perfect position to tackle and then trigger the tackle perfectly instead of you potentially failing it due to human error. Same goes for other actions, such as passing, dribbling, shots on the goal, and slide tackles especially.
Scripts have been used by a lot of professional gamers to increase performance for a long time. The best thing about them is that they have a near 0 ms reaction time and are able to react as fast as it is technically possible, augmenting our slow human reactions and making players a lot more efficient and increasing win rate if set up and used correctly. However, scripts are usually only used on PC, since the demand is not high enough to port them to any other platform.