Is it possible to cheat in Rainbow Six Siege?
Yes, since this game features a lot of shooter mechanics, it is possible to apply wall hacks to see enemies through walls, aimbots to automatically aim and shoot enemies and use some other minor client cheats. That way it should be pretty simple to rank your clearance level up more quickly and farm renown for unlocks.

Is it legal to cheat and will I get banned?
Cheating in games is legal and always has been. However, Ubisoft does have the right to ban any user form their service for any reason. Also the size of teams and the nature of the game will make hacking incredibly noticeable, since there are few players, killcams and a relatively mature audience. So if you decide to cheat in Siege, then do so using quality (undetected) software and make sure you are not being obvious to avoid being reported.


Find and Download Rainbow Six Siege Cheating Software.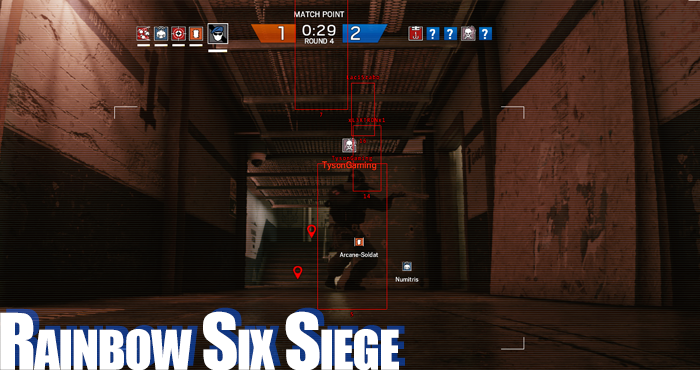 For Educational Use Only
Tom Clancy's Rainbow Six Siege Cheating Methods
As already mentioned, ESP hacks and aim bots will probably the the preferred method in this game to farm XP and renown. However, we do recommend that these programs if used at all, are used with great care, since they are incredibly noticeable and overpowered in this particular game: Walls are destructible and there are realistic physics, allowing auto aiming software to kill enemies from far away and through multiple walls or other objects. Also knowledge of enemy positions is incredibly powerful in Siege, since the game is a very tactical kind of shooter. We do recommend that players do not use aimbots and stick with wall hacks when playing the game and only turn on the aimbot if they know how to configure it properly and are being dominated by the enemy team. Another reason why auto aiming programs are not really recommended here is that the target audience for the game is pretty mature, since this is the tactical kind of shooter that usually does not appeal as much to kids and there are also killcams that can make cheating very obvious for the player that watches those cams. The combination of these two factors along with realistic gun and bullet physics makes it pretty easy for any hackers to get spotted and reported. Cheating in this game should be done carefully and with respect for other players as always.
What is an ideal situation to use an aim bot in Rainbow Six: Siege?
The perfect way to use cheats in any shooter is of course if team are either totally unbalanced and your team is literally getting rolled over. However, Siege offers another really interesting way of using auto aiming software to farm out your clearance level: Bot games. If you and your friends or bots are doing hard missions (hostage rescue, bob defuse ect), an aiming software can be a really efficient and fast way to farm clearance level Experience, renown and unlocks. And obviously since in that case you are killing bots only, there is absolutely no way that anyone is going to get annoyed, which is even better. Using cheats, you should be able to grind XP about 3 times as fast as without.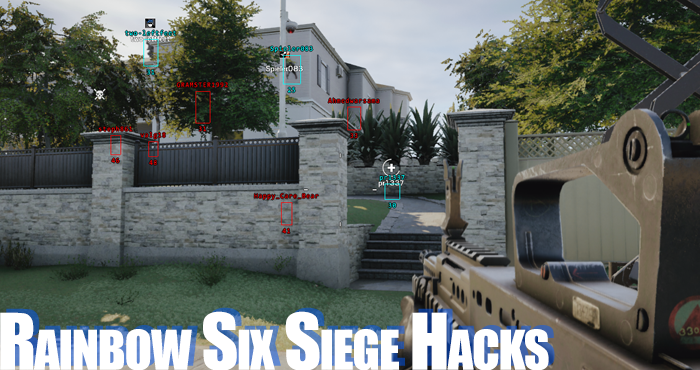 How do Aimbots and ESP Wallhacks work?
Since you are playing a shooter, in order for the game to be fair for everyone, every players has to be able to kill any other player at all times. – That means that the whole map including all enemy positions have to be stored on the PC to accurately simulate a fair battle. Cheating software exploits that fact to scan the maps for player objects, explosives ect and displaying that information or even automatically aiming and shooting guns at such objects. This kind of program is fairly complex and also needs to be able to circumvent any anti-cheating software in place.
Will I get banned for using hacks?
As already stated a hack needs to be undetected and you need to be using it carefully in order to make sure that you are not banned or soft-banned from the game. New technology like FairFight are analyzing player stats like accuracy, kill/death ratio ect in order to try and find patterns that would give away that someone is cheating. So make sure that you shoot some random bullets once in a while, since the accuracy really is what gives away aimbot users a lot of the time. And just generally use the software respectfully in order to avoid getting reported by fellow player. – Don't forget that there is a kill cam and therefore activating smooth aiming options is extremely vital.

Is it "OK" to cheat?
We advocate the use of cheats with respect to our fellow players and only in situations where we are being unfairly dominated or are able to help inexperienced players. – Using this kind of means to live some sick power fantasy and dominate other players makes all of us look bad and thankfully gets you banned.