Is it possible to cheat in SW: Galaxy of Heroes?
Yes indeed there are multiple ways to cheat in this game: Bots will allow you to automatically farm credits, crystals, data packs and hero shards. Exploits can allow you to get almost unlimited energy, money and so on depending on the bugs that are currently in the game. There are some minor hacked APK's and modded IPA's around as premium Downloads as well. However, there are no unlimited money hacks, hero unlockers and so on.

Is it legal to cheat and will my account get banned?
Since this is a very simple mobile game (iOS / Android), there is absolutely no way to tell bots from normal players generally. Also cheating in any game is 100% legal and that has always been that way. The only dangerous cheat will probably the the use of exploits, which can be detected. EA will probably ban accounts that are using exploits pretty quickly, if they get to the public.

Find and Download Galaxy of Heroes Hacks and Bots today!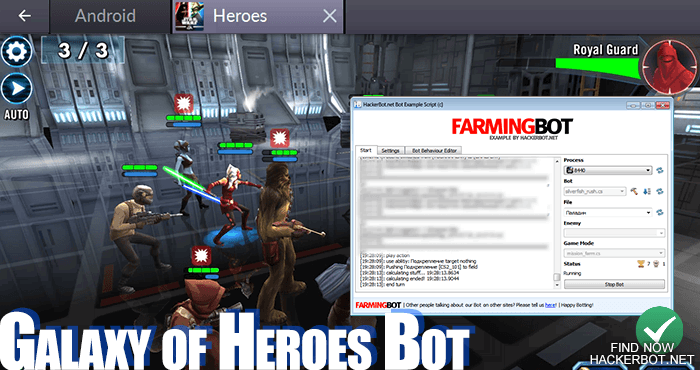 For Educational Use Only
What cheating methods are there for Star Wars: Galaxy of Heroes on iOS and Android?
The best and most effective way of cheating in this game is to use software to automate farming for credits, crystals, shards and XP to level up your characters, your account level and improve your heroes to maximum stars by farming hard mode for character shards. Such automatic farming software is commonly referred to as a "bot" or "robot", which is essentially a program that can automatically perform simple tasks and actions in a game like SW:GoH. Another way to cheat would be the use of simple client-side hacks that might allow you to get cool downs faster, speed up game animations and so on. However, hacks are not capable of giving you unlimited money, health (god mode), shards of unlocking heroes and items, because this is a multiplayer game and this kind of data is stored on the EA game servers and therefore cannot be hacked. Finally, exploits are bugs in the game that may allow you to get unlimited XP, money and so on depending on the exploit. Duping exploits allow you to duplicate itmes, shards and so on, but are incredibly rare. Exploit-bugs are usually patched within days after going public and are really high-risk to use.
What is a bot able to do for me in Galaxy of Heroes? How does it work?
Bots usually read your game memory and then automatically perform simple actions like farming missions and hard mode as soon as you have the energy to do so, upgrading your gear and characters as you go and so on. Bots are easier to set up on Android, since it can be emulated on a PC, which is the simplest and most effective way of botting this particular game. On Apple iOS devices running bots will be a bit more difficult, since there are no known emulators at the moment and to run a bot you will have to root your device with most products. A quality automated farming bot will be undetectable, since there is really no way for Capital Games to tell a really active user from a bot at this time. Also farming bots are rare enough and will not be able to max your account within less than a year, so players are still incentivized enough to spend money on the game, so that it does not really matther to the developers. A farming program will be able to slowly farm out your account level, hero / character levels and character shards, it will also be able to automatically get free data cards and data packs as they get offered to you and open them automatically.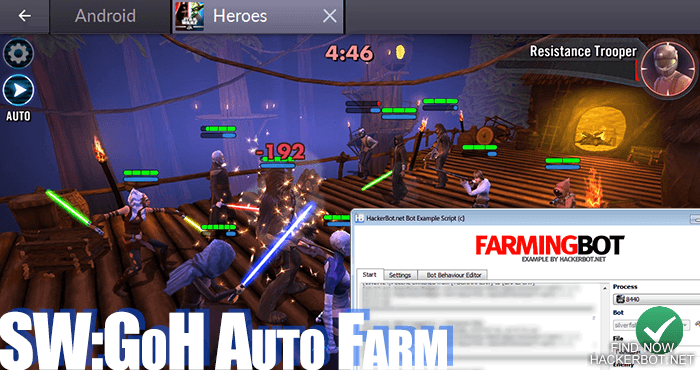 What can Galaxy of Heroes Hacks do? What can't they do?
First off let's be clear that there are no god mode trainers, no unlimited credits and crystal / shard hacks, there are also no item generators, levels editors and so on. The reason why that is the case is that all the values like your health, energy, money, data cards ect are not stored on your mobile device or PC, but on the Capital Games servers, which cannot be hacked using any legal means or "generators". So please do not fall for the survey scams from people offering you these cheating options.
Hacks may be able to speed up the game, get rid of animations, maybe even shorten your cooldowns and energy regeneration by changing the devices clock. However, beyond that there are really no hacks that could be relevant to your performance in Star Wars: Galaxy of Heroes. If you want to unlock the coolest characters like Count Duku, Anakin Skywalker, Luke Skywalker, Boba Fett and so on fast, you are probably best off spending money or be a bit more patient and use a bot instead.
Is there any Hacks or Generators for Unlimited Crystals, Credits and Unlocking Characters? Where can I Download it?
Galaxy of Heroes is an online game. That essentially mans that your emulator, Android or iOS device only store part of the game and the rest is stored on the game servers owned by EA. Data stored on these servers sits somewhere on a Computer owned by EA in their basement and cannot be hacked using any tools, hacks, generators or whatever. Anyone that therefore offers you ingenious ways of changing this data, which is not possible, is not being sincere with you. So please do not fill in their surveys or download their shady fake software. You know better… Because on the Internet anyone can claim to own a Girlfriend Generator that also gives you a God Mode for Galaxy of Heroes and unlimited money… anyone can say that, but no one can actually get you a legitimate download of it.