Is it possible to cheat in Clash of Kings?
Indeed it is possible to cheat in CoK by using automated game playing software, called bot or 'bots' that will automatically play the game for you, build your city, troops and even complete quests and attacks on monsters and players alike. There are also some minor hacks and exploits, but there is no way to get unlimited Gold (money), food or wood in any way due to those values being processed on the Clash of Kings servers and being unhackable.

Is it legal to cheat in CoK and will my account get banned for doing it?
Cheating in games has always been legal and will always be legal. However, Elex Wireleass, the developers, do have the right to ban people from their games and therefore it is vital for cheaters to sue cheating software of the highest quality and that are 100% undetected and up to date.

Find and Download Clash of Kings Hacks and Bots today!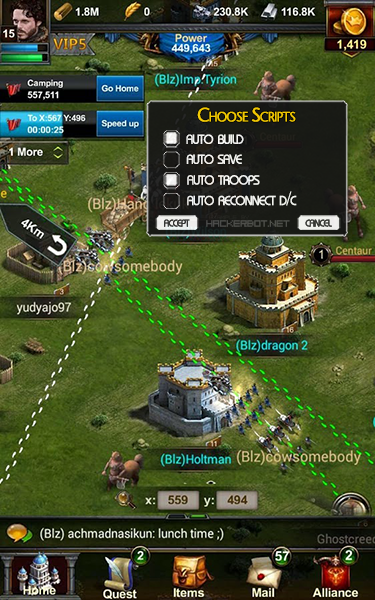 For Educational Use Only
What is the best way of cheating in Clash of Kings?
As there are no legitimate resource or money hacks for CoK, the best kind of hack to use is automated playing software or robots. Bots are able to not only build your Clash of Kings city automatically, but recruit troops, complete quests, research automatically, attack monsters automatically until stamina runs out, do recommended quests and daily quests, spend skill points and a lot more. A bot is pretty much able to play the game without any user input, since the game really is rather simple and most of the time does not require creative human thought and therefore can be handled by a simple AI. Clash of Kings Bots are the fastest way of maxing out your buildings, level, troops and resources. Bots can also be set to spend of save any available resources in case of an attack.

Is it save to use Bots in Clash of Kings
The use of botting software in mobile games such as Clash of Kings is pretty new and most game provders have not caught up to this particular development, which makes the use of automated farming bots in Andriod and iOS games a lot safer than on other consoles and systems. However, if you decide to use a bot to auto build your town and raid for you, make sure you do not run int 24/7. No human player can play a game for 24h per day over a prolonged time ant that is actually the one major way that bots usually get detected, given that they are usually undetectable, since they do not inject any code into the game app. Also the use of bots in mobile strategy online games like CoK is not popular enough for developers to cars, since a lot of bots actually require rooted mobile devices and most potential users do not want to deal with such complicated procedures.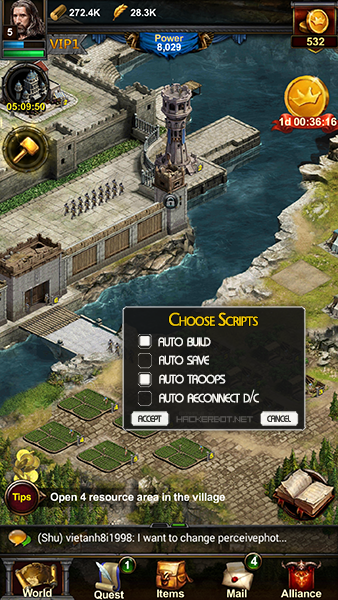 What kinds of Clash of Kings hacks are available / possible?
As already pointed out your gold, food, wood, troops, level and research are not in any way changeable using any kind of hack or generator. Anyone offering you these kinds of hacks for Clash of Kings is trying to get you to fill in surveys or otherwise scam you. That is true due to the fact that this is an online game and all the important account values are not stored on your mobile device, but on the Elex game servers that are virtually non-hackable, unless you want to run the risk of going to prison for hacking into cooperate systems. Such hacks may work in single player games that use no servers and are fully run on your phone, but Clash of Kings is a multiplayer game and this does not apply here. Some smaller hacks and exploits may be possible here and there, but nothing that would really be useful for your game progression or power.
The device or platform you play the game on does not really influence the cheating software available for Clash of Kings: Facebook, iOS or Android ect.. the cheating methods available are always the same. The only thing that changes from device to device or between the platforms is the actual technique or code used program the software.

Is there some Hacked APK (Android)or Modded IPA (iOS) for Free Unlimited Items and God Download?
Clash of Kings is an Online Game and that essentially means that your account data, such as your wood, food, gold, items, troops and so on is stored on a PC that belongs to the game developers (Server). Data stored on this sever cannot be hacked using any generators, hack tools or anything similar someone might offer you for Download. The only way to get gold, items ect is to farm them, if you want to cheat use a auto playing bot to farm it.
Anyone that claims therefore to have a cheat program that does the impossible in Clash of Kings, is not to be trusted. Remember, on the internet anyone can claim to have a God Mode and Unlimited free Money for any game.