Is it possible to cheat in Dragon Ball Z DOKKAN BATTLE?
Cheating is possible, just like in most other online mobile action games: Bots can be used to automate farming story and regular missions for some free money, XP, Dragon Stones and rewards. Hacks and Hacked APK/IPA for DOKKAN BATTLE files can be used to implement certain hacks, such as speedhacks, auto fighting, auto dailies completion and other methods to automatically spend your stamina. It is also possible to use an emulator on PC in combination with macros to automate processes, such as fusing cards/characters and train them, awaken them ect However, since this is an online game, your important account information (zeni, money, dragon stones, unlocked characters ect) cannot be hacked directly, since they are stored on the DOKKAN BATTLE game servers at BANDAI NAMKO and the only people havinc access to that data are the game devs and administrators.
Find and Download Dragon Ball Z DOKKAN BATTLE Hack and Bot Apps today!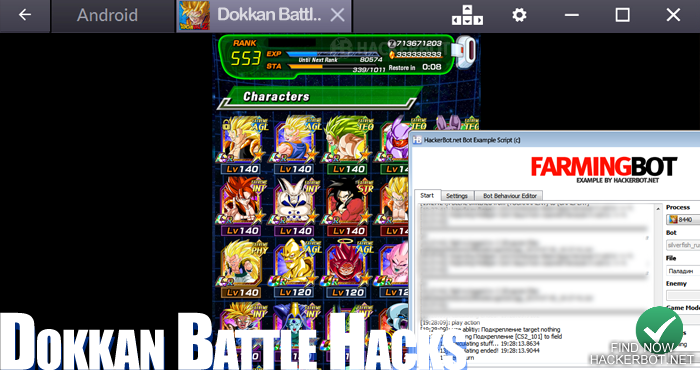 For Educational Use Only
DOKKAN BATTLE Hacks
Hacking this game is absolutely possible and will gain you slight advantages, such as speeding up animations, implementing auto battle actions, automatically collecting login rewards, auto completing achievements and dailies for some free dragon stones ect. As already pointed out, no DOKKAN BATTLE hack app is able to manipulate the game server and any values stored there. So there is no direct way though memory editing or modded game files to directly change your money (zeni) value or your dragon stones, get free summons and so on. - These cheats are not possible and anyone claiming to offer them is sadly trying to trick you.
There are 2 viable ways of implementing hacking options into the game: Using premade modded APKs or IPAs for Android and Apple devices resprectively, or to hack the game yourself using a memory editor, such as GameGuardian, Cheat Engine ect. If you are looking for legitimate sources of Hacked APKs for DOKKAN BATTLE, check out our list of legitimate providers. Keep in mind that most of the free stuff you find online to download will be malware.
DOKKAN BATTLE Bot Apps
A bot is extremely useful in DBZDB, because it can take a lot of the grind out of the game for you, get you essentially free money, characters, free summons over time, free dragon stones ect. However, it will take time. A bot/AI/Script will connect either to the game servers directly to play the game, use the actual game app on your mobile device/tablet or be run through an emulator on your PC. The bot will log into your account and perform certain automated actions, such as farming missions, complete events for SSR or UR characters, farm dragon stones, farm KI to awaken and level up characters, farming stages for money/training items, doing strike events automatically ect. Bots are also quite adept at fighting actual DOKKAN BATTLE fights using your team, recognizing the correct KI and strategy to focus on to stack health, do insane damage, nuke ect. Whatever your team specializes in, a good bot will have a battle profile for it.
Overall, DOKKAN BATTLE automation apps and bots are the closest you will get to an unlimited money and dragons tone cheat without actually knowing a game administrator and getting him to give you resources and characters directly. It is also an awesome way to always spend your stamina without having to play the game, slowly unlocking, leveling and awakening character over time.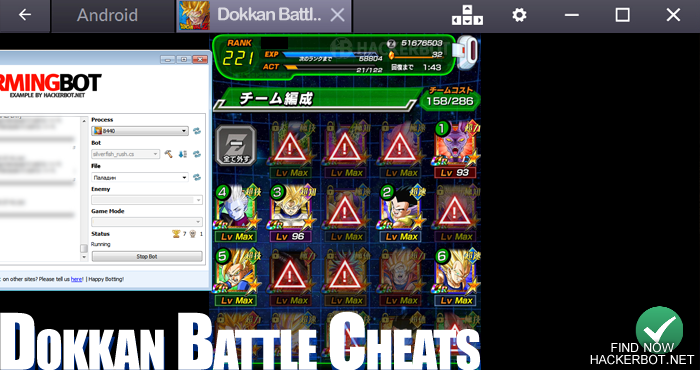 Are there many cheaters in DOKKAN BATTLE?
Yes. As with most online games, the top pro players will be using one kind of cheat, tool or bot or another. Since at the very top 1% of 1% of gameplay, every second counts, eveything has to be perfectly optimized and timed at all times. However, human beings require sleep and are usually not able to play a game for about 7 to 8h per day at least. This is there account sharing and bots come in, which both are technically cheating already. So with other words: Yes the best players have always and will always be players that cheat, because as soon as one guy cheats, every other top player has to do it too to keep up, this is no different in DOKKAN BATTLE as well.

Is it legal to cheat in DBZ Dokkan Battle?
Cheating in any game, including online games and mobile games is 100% legal everywhere in the world. Generally, people don't like it very much since it is considered unfair, as it should be, because cheating literally means gaining an unfair advantage. So while it is legal, it is against the Terms of Use, which are not binding, but it basically means that you can get banned. BANDAI NAMKO has the right to ban your account at any time for any reason, which it is recommended to use quality hacking apps that are undetected at all times and not to download free stuff online (or only use on your alt accounts).
How to create your own very simple DOKKAN BATTLE Bot:
Set up an emulator for your OS (Android, iOS, Windows ect)
Install DOKKAN BATTLE through the appstore
Install a macro recorder / editor on your PC
Record a loop where you start in one menu, perform an action, such as farming a missions
Return to the menu you started at to end the loop, stop recording
Repay the recording in an infinite loop to automatically farm the game
Congratulations, you just made your own cheating software, now optimize using the editor as necessary.
Unlimited Dragon Stones Hack
Neither a hack for unlimited/infinite Dragon Steones,nor Zen, medals or any other ingame currencies exists, because these account properties are stored on the Dokkan Battle servers and therefore are virtually unhackable. You can only change values through hacking tools that are located on your device. Stamina, Dragon Stones, Zen, Unlocked Characters and levels are not stored on your device and therefore cannot be hacked using any tools or generators. Anyone offering this kind of cheat for Download is a scammer and not to be trusted. Remember: Anyone can claim anything on the internet.