Is it possible to cheat in Goddess: Primal Chaos?
Yes, cheating is possible in a whole variety of different ways: Modded games files and hacks will allow you to play the game with integrated cheating options, such as speedhacks, auto heals, auto disconnect, auto using abilities in PvP, aimbots and so on. Bots and scripts will allow you to farm gold, merits and gems automatically by completing dailies, dungeons, bosses and events without you having to actually play the game. Cheats are available for both iOS and Android version of the game. However, cheating options are limited by Goddess: Primal Chaos being an online game. All the important account information, such as your money, gems, EXP, VIP level, Power Rating ect are stored on the game servers belonging to koramgame which cannot be hacked or modded using any means (even is shady people on the internet may claim otherwise).

Find and Download Goddess Primal Chaos Hacks and Bots today!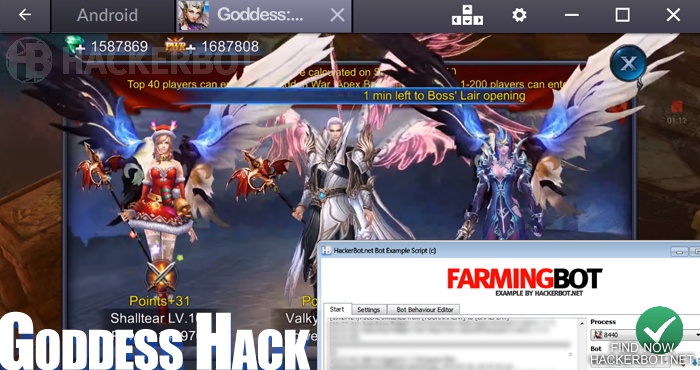 For Educational Use Only
Goddess: Primal Chaos Hack Apps
When it comes to hacking this role playing mobile game, there are essentially 2 different methods that are usually applied: Either you hack the game yourself using a memory editor such as Cheat Engine or GameGuardian ect. The second way it to use a modded game file that had been decompiled, modded and recompiled to include cheating options by default. Possible hacks include anything from simple speedhacks that allow you to run faster, cast abilities more often, to noclips that allow you to walk through walls and essentially be unkillable in PvP to teleporting and so on. The possibilities are almost endless, but actually getting a working app is really the hard part, since any cheat has to be constantly updated with every client update that the Goddess:Primal Chaos game app gets.
As has already been pointed out, it is impossible to get unlimited gems, gold, power, gear ect directly in any way using any app or tool. Your gems and other account information are stored on the Goddess Servers belonging to koramgame, the developers of the game. These servers are PCs that cannot be hacked and that store your "savegame" if you will. You can only hack values and data that is on your phone. So beware of any shadly people that offer you impossible cheats online.
Goddess: Primal Chaos Bots and Macros
A bot is essentially a program or app that uses any kind of platform, such as iOS, Android and Windows to automatically log into the game, farm daily challenges, dungeons, bosses, events ect for free gems, gold, EXP and gear over time without you having to actually play the game yourself. The bot / script does not need any sleep and can potentially play the game 24h a day to farm and level characters up for you. – This is the closest you will ever get to a unlimited money and gems trainer in Goddess:PC. A bot can come either in the form of an app for iOS or Android, usually will require a root or jailbreak or can be run on your PC to connect to the servers directly. An alternative way of doing things and creating automated actions in game would be to use a macro recorder + editor to farm missions indefinitely. In order to bot Goddess effectively, you will want to have a hero setup with a lot of tankiness and healing that does not require extraordinary amounts of skill, since an AI is not quite as intelligent as an actual human player.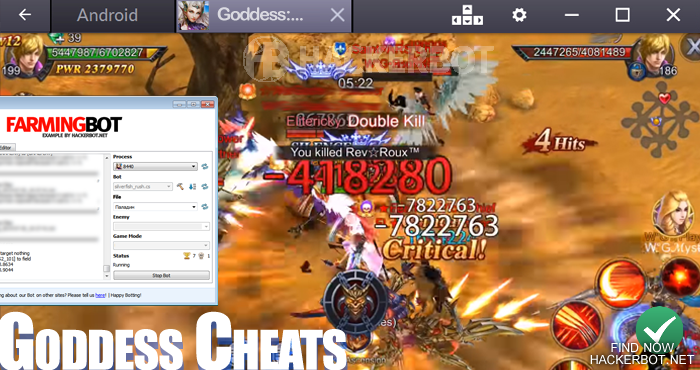 Is it legal to cheat in Goddess:Primal Chaos?
Cheating in any game is absolutely 100% legal. Yes, it does usually represent a breaking of the Terms of Service and EULA, but all that really means is that your service/game account can canceled, which it can anyways for any reason what so ever. – Keep in mind that koramgame have the right to ban anyone from their games for any reason. It's their good right. And that's the worst that can happen. So make sure that if you are going to use a Goddess:Primal Chaos Hack, you are using an app that is up to date and undetected at all times before downloading.

Are Unlimited Gems and Power Generators for Goddess legit?
No. God Modes, Unlimited / free Gems, Power Generators, stat editors and 100 Stars instantly are all impossible. This is an online game and your account info is sadly unhackable, since it is processed and stored server-side. The only way to go is to either play the game or make a program play the game, farm up, complete dailies, get married, get a good guild, fore gear, get a fancy mount and get #1 PvP ranking through hard, or not so hard work. Cheats can help you improve your gameplay, but they won't give you everything instantly.