This is a list of the very best apps that allow you to cheat in your Android mobile games. Some of these apps / ways of cheating require no root, others  allow you to hack games yourself and will require root. You can download these Android game cheating apps today at the download links provided.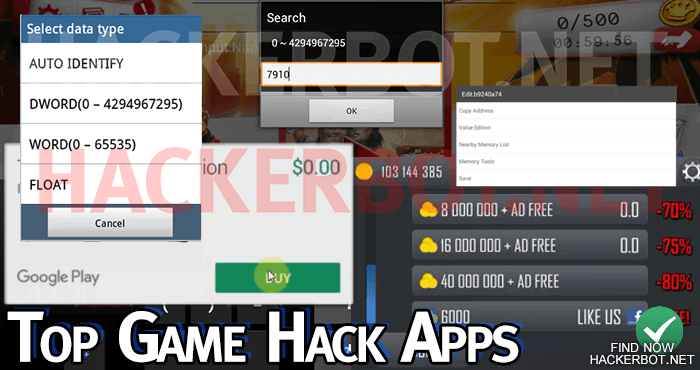 Game Hacker (Root / Memory Editor)
The infamous SB Game Hacker is our top rated app for cheating in games on Android, because of how incredibly easy it is to use. It is not a deep and complicated value editor, but a simple and easy one that works, is compatible with most devices and guides even a 1st time user through the process of hacking simple Android games without a hitch. It offer everything a casual user would ever want from a state of the art memory editor and even has some advanced options.
Modded APKs (NO ROOT / Game Hacks & Mods)
APK Mods or Modded APKs are objectively speaking the most powerful kinds of cheats available for Android games without anything else coming even close. – They are game APK files that have been disassembled, hacked/modified to enable cheats and then made available for download. The problem about this kind of game hack is that it is extremely hard to find and gets outdated quickly in the case of mobile games. None the less, they are very popular, do usually not require a rooted device or phone and can be found relatively easily at this link.
Freedom APK

(ROOT / Free Purchases)


This app is great, because Freedom APK allows the user to emulator game-store purchases in a lot of offline games. It is extremely easy to use, and easy to set up. It requires you to disable playstore updates and in some cases even to install an older version of play store in order for it to work. Nevertheless, when it works, it works very well and allows the user to basically go ham and buy anything they want from the game store for ever, which is naturally quite enjoyable. Freedom APK is without a doubt the best free purchase app in existence right now and comes highly recommended.
HackerBot APK

(NO ROOT / Search Engine)


HackerBot APK or HackerBot FreeFinder is an incredible app/site that allows users to easily find legitimate modded APK and game cheating tutorials for Android and other OS based games. As already pointed out, hacked APK files are a very powerful tool in getting cheats for Android games to work, nay the most powerful tool gamers have at their disposal at this juncture. HackerBot makes it incredibly easy to find these mods, where other search engines will struggle and mostly serve you spam, fakes and surveys, this search tools will only search cheats on sites that have proven their quality over years of providing working cheats.
GameGuardian (ROOT / Memory Editor)
Technically, this is the best value editor for Android hands down. However, since GameGuardian is also the most complex and arguably complicated memory editor, it sadly did not make our number one. Power users will love this app, it allows for every functionality you could ever wish for if you are real professional game hacker and even casual cheaters will love especially the speed hack and time lapse functions included here. The app is compatible with virtually every android device and is updated very often. Arguably the best game hacking apps, but also the most complicated one.
Lucky Patcher

(NO ROOT / Patcher)


Lorded as the one app that can hack Android games with no root required, Lucky Patcher comes praised by many, however working for few. The app is certainly able to patch your game APKs and enable all kinds of cheats, enable free purchases and so on. However, specific patches offered by this app only work on specific versions of any particular game and game get updated a lot these days, making the experience of using Lucky Patcher to cheat in games a very disparaging one, unless you do some serious research first about every single game you would like to patch. Personally, I prefer mods, but it handy to have around when nothing else works.
Xmodgames

(ROOT / Patcher)


The second patcher on this list, Xmodgames is a launcher for games that has the ability to patch mods into the games on your phone. Essentially a modded APK downloader without downloading modded APKs, it simply modifies the games already installed on your device to implement cheating functionality into the apps. It sounds quite awesome, but it comes with a low success rate, embedded ads and low compatibility with many android devices. While easy to use and beginner friendly indeed, more secure than downloading random files from a APK mod Google search, it still falls short of being a reliable game hacking app.
Game Killer (ROOT / Memory Editor)
A very basic memory editor that allows the user to connect to a game, search for values, change the values and get basic cheats, such as unlimited money, gold or gems in simple single player games working. A bread and butter memory editor that does the job as long as it is compatible with your device. While it does not beat the above mentioned representatives of its software family, I would most certainly recommend you try this one if for some reason the other memory editors fail you for some reason. Game Killer is as basic as it gets for a memory editor, but beloved by many and a nice app to have.
Cheat Engine (ROOT / Memory Editor)
This app is still mostly in development and while it cannot be said to be the greatest of its kind, it comes from the creators of the most advanced memory editor on the planet: Cheat Engine, which has been the best game hacking app on the planet for many, many years without any rivals to challenge it, offering tables (trainers) functionality, the base for most trainers in existence and hopefully a further expansion into the mobile and android market as the future draws closer. This app is mostly featured because of the profile of its creators and much less for its current capabilities. While it works, it is more of a test of concept in 2017/2018 than anything else, but that may change with a single update.
CreeHack

(ROOT / Free Purchases)


Emulation of in-game purchases is the game and CreeHack has mastered it for many years. A great alternative to Freedom APK, it does the same job: It simulates purchases through the play store and gives you a free gift card for any purchases you activate, allowing you to purchase stuff for free in a whole lot of games. As most payment simulators, it is not compatible with most online games that use servers to authenticate purchases and therefore cannot be tricked. However, it does allow you to not pay to have some numbers changed on your own phone, a process which can be done by and decent memory cheat, leaving you to only have to pay to get numbers changed on someone else's device (aka. online games).
Memory Editors for Android Games
Anything that is stored or processed on your Android device (client-side) can be changed. And at least in theory, memory editors allow you to do just that. In single player games you get god modes, unlimited money, unlimited gems, skill points, stats ect. In online games, your character, health, money, gems ect are usually stored on a server (server-side) on a device that is not yours and therefore cannot be memory hacked. Such is the limitation of game hacking in general.
While anything on your device can in theory be changed, the process of getting some edits going may be too complex to be worth your time, in these cases APK mods are your friend, because to create them the process only has to be completed once.
Patchers for Android Game APKs
The concept is easy: Decompile the APK, modify it in a predetermined way and recompile it. A way to make your own APK mods without having to download them online, by simply having an app that knows how to mod the games. – Sounds good in theory, but in practice the fact that many games, especially online games can get more than 2 updates every week, complicates things extremely and the success rates of such apps takes a huge hit.
Free Purchase Emulators for Playstore
Purchase simulation allows you to bypass the game apps that charge you money to essentially activate normal client-side cheats aka. increasing numbers on your own phone. Why would you pay someone to change numbers on your own phone? People though the same thing and made free purchase apps that allow you to punish devs that charge you money for changing numbers without even having the courtesy of running some servers to store your numbers on.
Obviously this kind of app will stop working as soon as the developer of a game rents his own servers to store your player data on, as it is impossible to hack such servers using any apps on your android phone.
Search Engines for Game Cheats
Finding modded APKs has become hard, nay almost impossible for people that do not know any legitimate game hacking communities, because spammers, fakes, survey and human verification spam has clogged the search results of most web search tools. However, sites like HackerBot do provide services to search in among only legitimate game hack download sites and APK modding communities in order to avoid 99% of the spam you would otherwise encounter when trying to install some mods for your favorite games on Android.