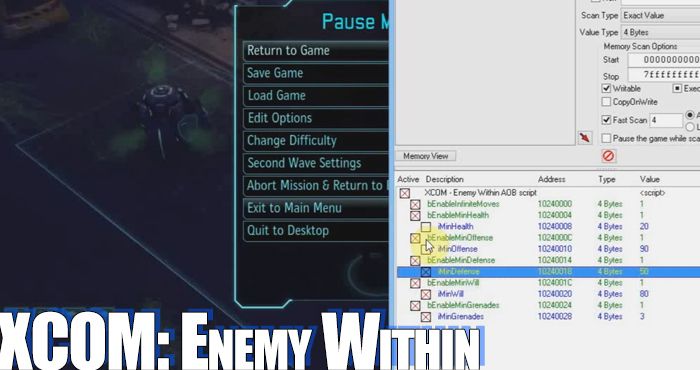 Enemy Within Trainer incl. God Mode (Cheat Engine)
This trainer will let you enable options for Unlimited Movement, Unlimited Health (God Mode), Unlimited Defense, Unlimited Offense and some other useful cheats. In order to run this trainer, you will need to have Cheat Engine installed on your Computer. Using this trainer, you can ensure that none of your squad members ever dies. You will need to use the "end turn" button in order to lure invisible (stealth) enemies in and kill them. Please do keep in mind that the game can be considerably less fun using this trainer and as always we recommend that you do at least one play through without using cheats before using trainers like this to get the original game experience. This trainer might or might not work for all versions and updates of the game, since it has been made specifically for the initial release version. As always it is best not to update the game, to make sure the trainer works. You can download this trainer here.
Trainer Update #1
The trainer posted above was recently updated and now provides all the options for outside of battle (in your base) that you could ever possibly need. This trainer now includes the following cheats as well: Unlimited money / funds, Add, Scientists and Engineers (add, set number), add items (alien parts) and satellites, set panic levels for the whole world, infinite meld, alien alloys ect. This trainer now basically allows you to get a god mode in battle and in the micromanagement level of the game. This way you will be able to research the best technologies fast, upgrade your soldiers (genetic, robotic) to get the best soldiers possible, be invincible in battle and beat the game pretty quickly. However keep in mind that a lot of what the game has to offer is the thrill of managing resources and making strategic choices in battle. This trainer kind of gets rid of that. The trainer can be downloaded at the link above.
Unlimited Money Hack (Cheat Engine)
The simple technique shown in the video above can be used to change your money in XCOM: Enemy Within. This cheat should work for all versions and updates of the game. The value is stored as a single 4byte value and is quite easy to find. Other values such as engineers, scientists, resources and others might be stored in the same way. You can test it out if you want. Keep in mind that infinite money will not make your units invincible. If you would like a trainer including unlimited health, then check out or trainers for Enemy Within.