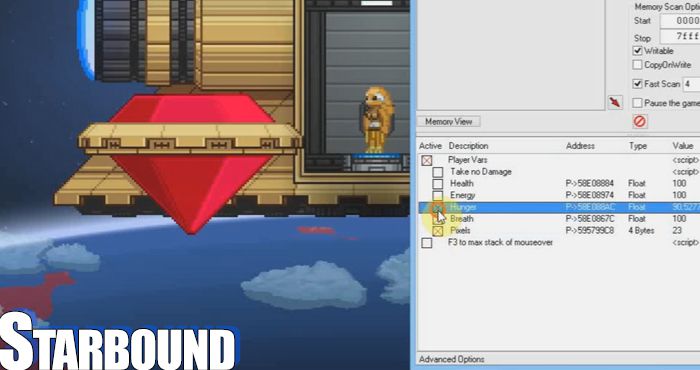 Starbound Beta Trainer
This trainer for the Beta Version of Starbound on Steam will give you Unlimited Health (God Mode), unlimited Energy, Money aka Pixels, Will freeze your Hunger, allowing you to play without having to worry about Food and gets you unlimited Breath for underwater exploring. This trainer has been tested on 3 different beta versions of the game and has continued working for a week so far. In order to find out how to get this trainer file running and how to use the included cheating options, please watch this tutorial. Please keep in mind that this trainer is for the beta and might not work for the actual release version of Starbound. You can get the trainer file at the download post.
Unlimited Items Cheat (Cheat Engine)
Cheat Engine is a neat little tool that allows us to scan a process (game) for a certain value and then change that value, enabling us to get unlimited items in Starbound. Here is what you need: Cheat Engine (download above) and at least 2 of the item that you would like to get more of. Now you select the Starbound Game Process from the list in cheat engine and scan for the current stack value (amount of that item that you have in your inventory stack). You will probably get a few thousand values. In order to narrow that down you go back into the game and either split your stack up using your right mouse button or you spend items in order to change the stack value. Now scan for the new value again and repeat that process, until you are left with a single value. Once you have found the correct item stack value, double-click it and once it appears in the list below, change its value and you are done. Enjoy this unlimited item cheat for Starbound.