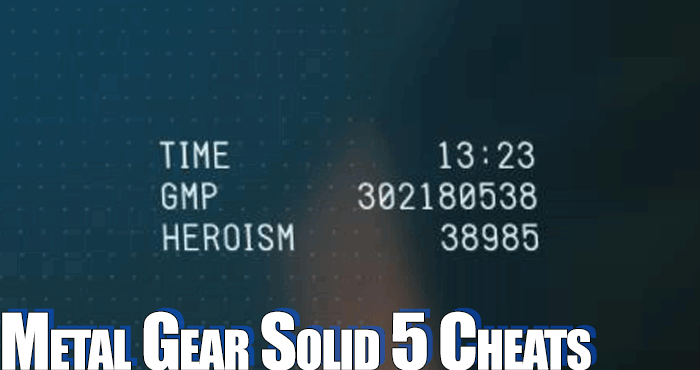 This is a short tutorial on how to hack Metal Gear Solid 5 using a very simple method that works for all versions (steam, g2a, gamestop ect). In order to follow this Tutorial, you will need Cheat Engine . Some of the values in the game are hidden and therefore, you will want to consult the "values" below.
How to do it
1. Get and install Cheat Engine 
2. Click the PC icon and connect to the Metal Gear Solid 5 game process
3. Scan for your resource / money / ammo ect value
4. Change the value in game and scan again using next scan after changing to the updated value
5. Repeat this process until you are left with 10 values or less
6. Change or freeze the values and you got yourself unlimited GMP resources, ammo ect
7. Keep in mind that resources are hidden by multiplying the shown value by 2 (resource value 10, memory value 20 ect)
For a more in-depth lesson on how to do this, check out the video above or go here.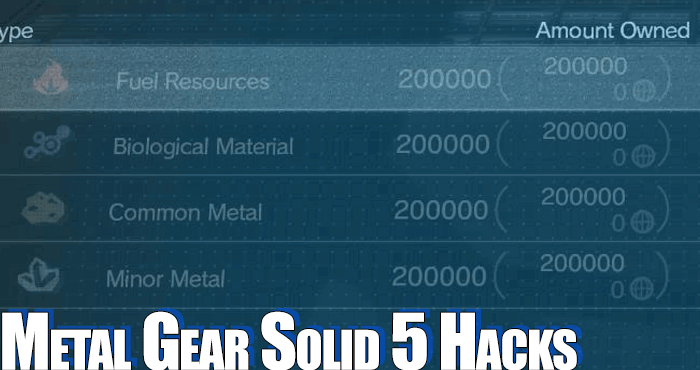 Metal Gear Solid 5 Values
Money / GMP = 4 Byte exact value
(Processed / Unprocessed) Resources / Materials = 4 Byte (1 resource =2, 200 resources = 400 in memory)
Mediacal Plants = 4 Byte (maybe x2)
Ammo = 4Byte
Heroism = 4 Byte
The Money value in Metal Gear Solid V is easily hacked, since it is an exact match 4 Byte value, resources are x2 "hidden". So far it does not seem possible to hack the unit levels sadly. You will still have to extract any skilled personnel, but the hack will allow you to max out your base very quickly (instantly).
Manual CE speed hacks also work very well on the game. For advanced hacks like unlimited ammo, god modes, invisibility ect you will need an advanced trainer. Important: Invisibility hack in MGS5 kind of ruins the games fun just fyi.
Trainers
[Mega Trainer] http://hackerbot.net/forum/trainers/1981-trainer-metal-gear-solid-v-godmode-unlimited-money-resources-invisibility
[Max Rank Facilities and Staff S++] http://hackerbot.net/forum/trainers/1982-trainer-metal-gear-solid-5-reward-editor-unlimited-staff-s-max-facilitities