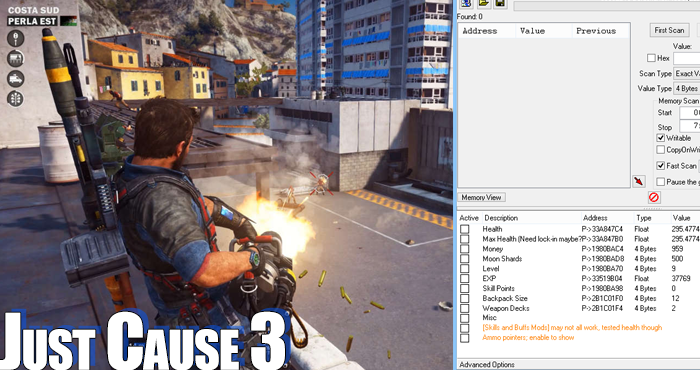 This is a short tutorial on how to hack Just Cause 3 manually and get unlimited ammo, chaos, items, grenades ect by editing memory values. You will need Cheat Engine to follow this tutorial, but it will work for every single version of the game out there, even if all trainers fail you.
How to hack Just Cause 3 Money manually
This technique should work on all versions of the game, even if all trainers fail, because they do not work for your specific version of the game:
1. Get Cheat Engine and install it
2. Click the PC icon and connect it to the Just Cause 3 game process
3. Set the scan value to "All" (important)
4. Scan for your ammo, chaos, health ect
(none of the values I hacked so far are encrypted)
5. Change the values in the game and rescan until you got a narrow selection.
6. Change your values and get unlimited ammo or whatever.
If you need more in-depth instructions then go here.
If you are looking for trainers to use in Just Cause 3 that allow you to get a God Mode (unlimited health), Invisibility, unlimited ammo, flying mode, super speed, all unlocks and rebel drops, mods and many, many more cheats, then you should check out the trainers section on our forums.
Trainers
[Unlimited Health, Ammo, No Reload, Freeze Timers] http://hackerbot.net/forum/trainers/2042-trainer-just-cause-3-god-mode-ammo-grenades-timer-freeze-cheats
Keep in mind that cheating in Just Cause 3 will heavily impact your game experience and that it is always recommended that you first play the game the way it was intended to be played, before "spoiling" yourself. But at the end of the day it's your game and you do whatever you want with it.