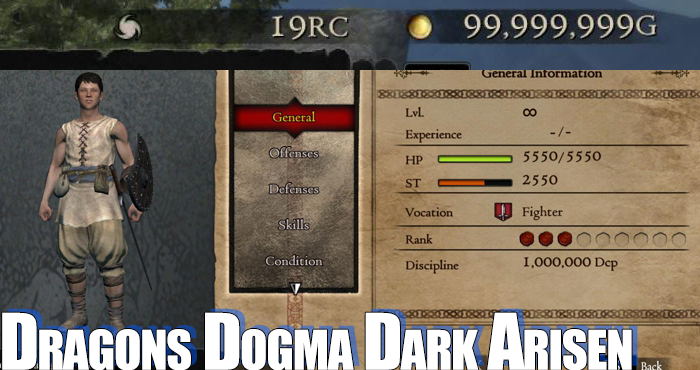 This is a very easy and simple method to cheat in all versions and patches of Dragons Dogma Dark Arisen on PC. In order to use this cheating method, you will need Cheat Engine or any similar game value editor. Also not all values can be found with the default settings, so please consult our game values table below.
How to do it
1. Get and install Cheat Engine
2. Click the PC icon and connect to the Dragons Dogma Dark Arisen game process
3. Scan for your gold /HP / experience / ST ect value
4. Change the value in game and scan again using next scan after changing to the updated value
5. Repeat this process until you are left with 10 values or less
6. Change or freeze the values and you got yourself unlimited GMP resources, ammo ect
7. Keep in mind that that most values in the game like your money, experience and discipline points can be found using the default 4byte scan mode, but your ST and Health (HP) are stored as float values.
For a more in-depth lesson on how to do this, check out the video above or go here.
Dragons Dogma Dark Arisen Value Types
Money / Gold = 4byte
Experience = 4byte (note that if you go too high, your character level will become infinite)
Health and Endurace (HP / ST) or Mana = Float
Dicipline Points (Dcp) Skill points = 4byte
Cheat Engine Tips
When it comes to editing your pawn everything works the same as with your main character. Simply find their experience, Dcp ect and then edit them. I would suggest when editing any value never to go above 9 Million in general, since using any numbers larger than that can lead to game breaking bugs. However, these bugs can usually be fixed by simply reloading the game at the last save.
Also keep in mind that the mobs and enemies in the game do scale to your parties level to a certain extent. In order to circumvent that you need to either set your level to infinite or get yourself Unlimited HP ect.
Trainers
Trainers for DD Dark Arisen can do the same things as the manual cheating techniques described above, but they may not work for all versions of the game.
[God Mode, Unlimited Money, Helath, DCP, Level, EXP - Mega Trainer] http://hackerbot.net/forum/trainers/2118-trainer-dragons-dogma-dark-arisen-god-mode-unlimited-money-items-dcp-ect