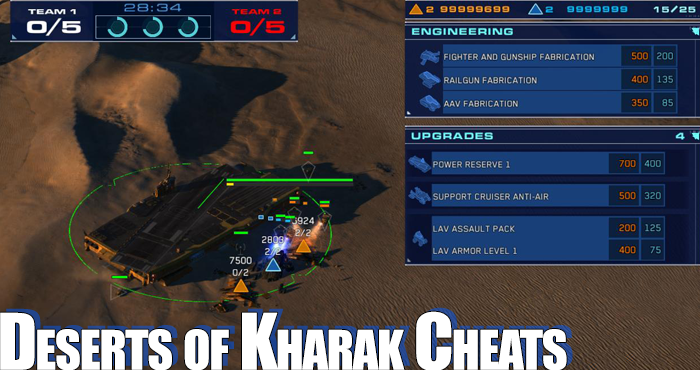 This is a short tutorial on how to hack the main resource values (construction units and resource units) in order to allow you to buy and research all the units in the game and to make winning matches a lot easier in single player mode. The manual cheating method works for all version and patches of the game, but will require Cheat Engine to be used.
How to do it
1. Get and install Cheat Engine
2. Click the PC icon and connect to the Homeworld: Deserts of Kharak game process
3. Scan for your resource, unit count ect value
4. Change the value in game and scan again using next scan after changing to the updated value
5. Repeat this process until you are left with 10 values or less
6. Change or freeze the values and you got yourself unlimited resources, energy ect
For a more in-depth lesson on how to do this, check out the video above or go here.
Deserts of Kharak Game Values
Resource Units (RU) = 4byte
Construction Units (CU) = 4byte
Energy Value = All Values
Max Units = 4byte
Current Unit Count = All Values
Unit Health = All Values
The maximum unit count can be hard to hack, since it tends to reset a lot and you may want to consider actually increasing it through the actual game mechanics or using a trainer that works for your version of the game to freeze the current unit count or increasing your maximum.
Getting God Modes to work for all units is also pretty hard without the help of some kind of script, but having Unlimited resources will usually be enough to win any kind of match on any difficulty. Also research cannot be sped up (instant research) and will still take time even if you have unlimited money.
Trainers
When using trainers keep in mind that the scripts are usually designed to work for specific versions and builds of the game and will usually stop working fully after some bigger updates. If you cannot find a trainer that works for your specific version of Homeworld: Deserts of Kharak, you will want to try and hack the game manually as we showed you hot to do above or in our tutorial section.
[Unlimited Resources, God Mode, Unlimited Troops] http://hackerbot.net/forum/trainers/2119-trainer-homeworld-deserts-of-kharak-unlimited-resources-god-mode-unit-limit