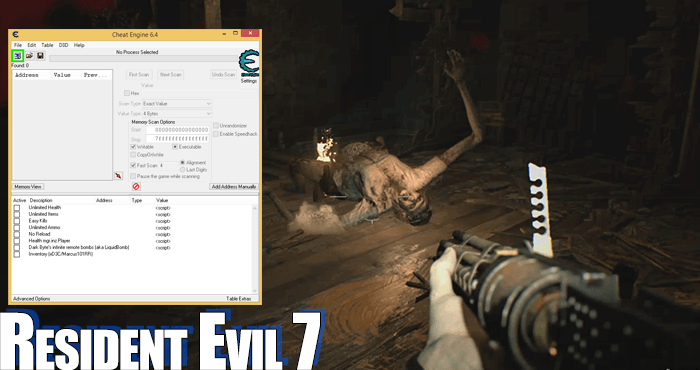 There is a short do it Yourself way on how to cheat in Resident Evil 7 on PC without a working trainer for you version of the game. Since Games get updated all the time, there will always be times when you are unable to download working trainers. You will need Cheat Engine in order to follow this tutorial and edit values, such as your health, ammo, bombs, items and so on.
How to hack RE7:
1. Get and install Cheat Engine
2. Click the PC icon and connect to the Resident Evil 7 game process
3. Scan for your ammo, health, items
4. Change the value in game and scan again using next scan after changing to the updated value
5. Repeat this process until you are left with 10 values or less
6. Change or freeze the values and you got yourself unlimited money, heirlooms ect
For a more in-depth lesson on how to do this, check out the video above or go here.
As walkways, keep in mind that horror games are generally most enjoyable without the application of God Modes, Unlimited Ammo trainers, Item Editors, Invisibility cheats, Savegame Editors and so on. You may want to play the original cheatless version at first to get the most out of the game.
Or you could just go to town and have some fun:
Trainers Download for RE7
Trainers are usually made for a specific verions or a range of versions of Resident Evil 7 and will most likely stop working at some point in the future, as the game gets more updates and the memory structure is changed again and again.
Here are some new trainers for Resident Evil 7:
[HB +5 Trainer] https://hackerbot.net/forum/trainers/2366-trainer-resident-evil-7-god-mode-infinite-ammo-bombs-item-editor-unlimited-items