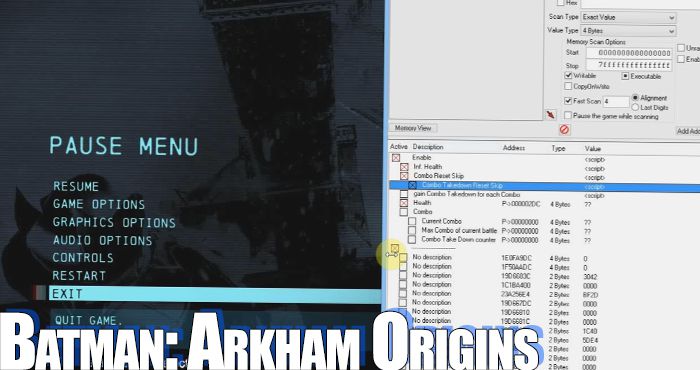 God Mode and Giant Combos Trainer (Cheat Engine)
The first Trainer for Batman Arkham Origins has just been uploaded to our site and it will enable you to activate a few really interesting trainer options in the game. You will be able to freeze your health and deactivate the comb reset, allowing you to be invincible and piece together huge combos in fights. What is important with this one is that you activate it before you load into a game, otherwise the trainer will not be able to find your health value and the god mode won', so activate it in the main menu, then load into your game. This trainer should work for the release version of Batman: Arkham Origins and will or will not work for later updates and version, we really don't know. You can get the trainer here.
Update 1: God Mode fixed,Unlimited Ammo and Skill Points added.
Unlimited Skill Points (Cheat Engine)
This method will allow you to get unlimited Upgrade Points for Batman: Arkham Origins: Set your Value Type in Cheat Engine to "ALL", then Scan the game process for your current skill point value. After that either change the value in the game or run around a bit, then scan again for the (new) value until you are left with 3 values. – Change those 3 values to whatever number of upgrade points you want/need and go back into the game. Close the skill menu, open it again and there you go: As many upgrades as you want, giving you a lot of health and abilities and other nice perks. Have fun.