While HackerBot.net is primarily a website offering information about cheating in online games, we also offer services to Manage Online Reputation of games concerning the use of Hacks and Bots in said games.
While you realize that people will always cheat in your game, you do not want access to hacks to be too easy. Especially freely available hack or bot software that is easily found through Google can hurt your games reputation significantly.
What we offer
We offer a simple but effective way of helping you to make access to free and paid hacks for your playerbase significantly harder, therefore reducing the "acquisition" rate of new cheaters.

How do we do it?
Since probably over 90% of cheater use Google to find their software, we work together with the game developer / publisher, their reputation management team or marketing staff to have our own websites show up above the ones that give users easy access to cheating software.
We then make sure that users cannot easily find the hack they are looking for, which will most likely take some very small actions over the course of time as Google reassess websites depending on the game.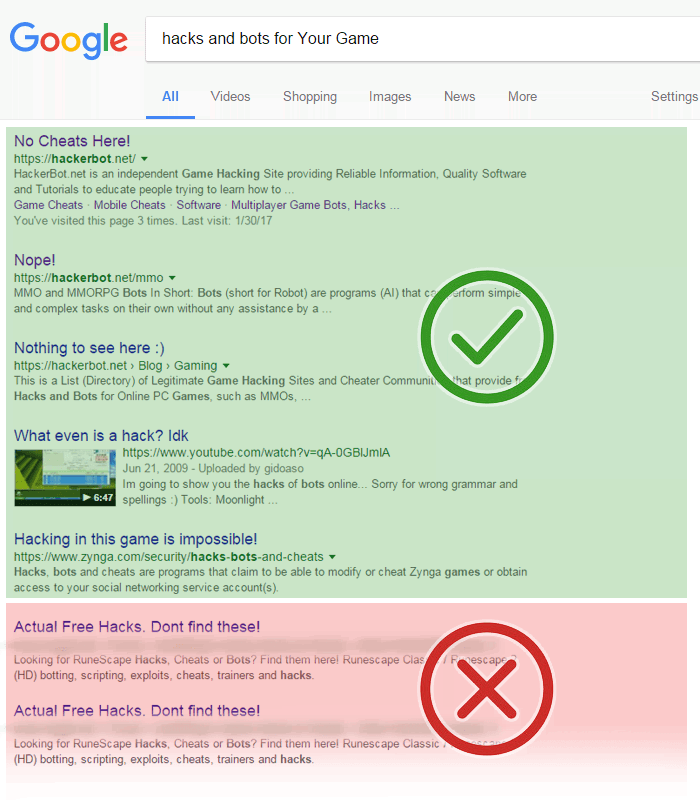 What does this service cost? How much work will it be? What are the terms?
Getting traffic to our sites is all the payment we need. And harder access to actual cheating software is all you need. Aside from a very basic and short NDA, we are not looking to sign any contract, and since we don't control Google, we can't guarantee success either, even though it is incredibly likely IF we work together and cooperate and make available resource to each other.
Generally, the more popular the game and the better the free hacks / bots out there, the harder this task will be.
What are the requirements?
Since this is essentially a free service, some requirements apply: Your game should be popular enough to actually have people looking for cheats. Visitors to our sites is how we get our benefits from the deal, therefore if the number of people looking is not high enough, we won do the free work.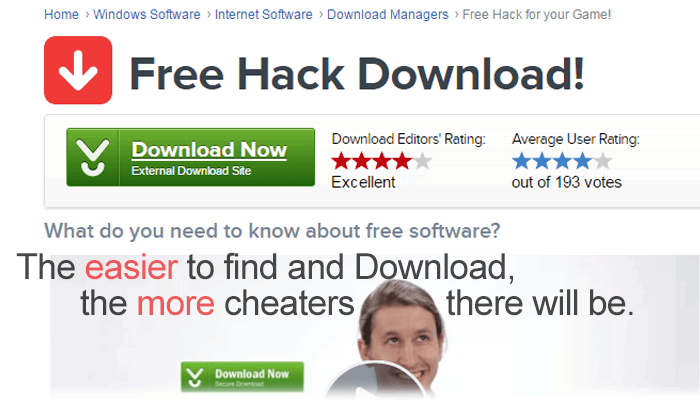 Do you do consulting concerning countering game cheating software?
While I am not versed in the technical aspects of hacking games as much as your average game developer, which I am sure you employ yourself, I am very much familiar with the flow of information and the ways people find cheating software online and how to counteract the flow of traffic to sources that offer such software.
How do we get started?
1. Use your company email to contact me at: hbmainacc [**at***] gmail [***dot**] com
2. Your email must be name@gamecompany-or-publisher, else I will assume it's a troll… Sorry for the inconvenience, but it's the internet.
3. I will answer and if you are able to quote my email and answer, I will know you are legit and not some email spoofer.
I'm looking forward to working with you.