Is it possible to restore deleted Facebook Messages?
Yes indeed, it is possible. However, the way it works may not be what you would ideally want to go with: The only way is to cooperate with the person or persons you had the conversation with. If they have not deleted the conversation, they are able to send you a copy of the information you are looking for.
How do I recover the Conversation
1. Contact the person or persons you had the conversation with
2. Ask them to share the conversation with you
3. Ask then to download a copy of the information as shown below ("What else can I try?")
4. Ask them to send you a copy paste text file of that specific conversation
Sadly, this is the only real way of doing things at the moment. The conversation is deleted on your account. That means the only way to gain access is through the other parties account.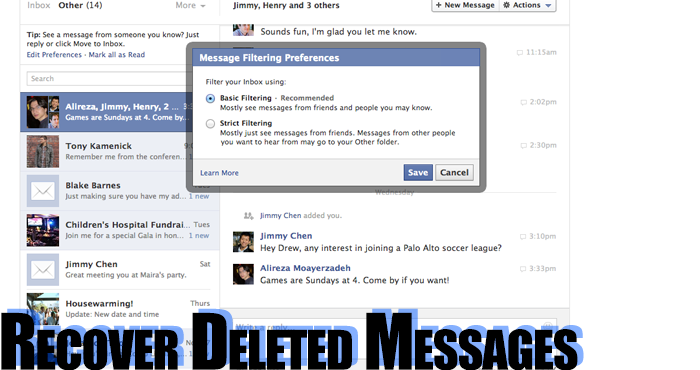 What else can I try? (Chance of Success 1%)
1. Login into your Facebook account and go to setting after it navigate to General account Settings.
2. Now you can see the Download a copy of your Facebook data, now click on download a copy link.
3. After clicking on link this will open a new page and on this page you can see download archive button. Click on it, after clicking it want you password and asking security question by Facebook.
4. Now you get message by Facebook – "the download link will be sent to your email id which you used to create your Facebook account.
5. Wait for a minute, check your e-mail, now you can see that you received Message from Facebook with download link. Click on download link can download zip file.
However, this data does not include:
- Deleted Messages
- Messages from people you are not friends with
- Messages from people that blocked you or you blocked them
With other words it is literally useless and seems to not even include all the data that Facebook has for your account. You are literally better off just logging into your account and searching for messages there.
Is it possible to restore deleted Facebook Messages on my own?
No, at this time it does not seem to be possible in any way. There are lots of articles recommending you to download all your data from Facebook, but this data seems incredibly incomplete. While I have the suspicion that deleted messages may still slumber somewhere in the depths of the web caught by the NSA or some shady middleman private companies, it seems impossible for us normal folk to get our hands on them.
Will there be a way to recover deleted Facebook Messages in the future without cooperation of the other party?
I do not think so. If it was not possible to delete messages in an unrecoverable way, hackers, friends, family ect could still get their hands on them by accessing our accounts. It is on one hand in the interest of the Facebook user that messages can be deleted unrecoverable, but on the other hand it can cause issues like this.