How to Use HackFinder
HackFinder by HackerBot is a tool that only searches websites, platforms, forums and sources know to provide clean and working cheats for the cheat you are looking for. The sources are constantly monitored and reviewed for any kind of malicious behavior. If such behavior is found, the source is removed. For online apps, it is vital to include the current version in the search to find up-to-date cheats. Here examples of how to use it and how not to use it: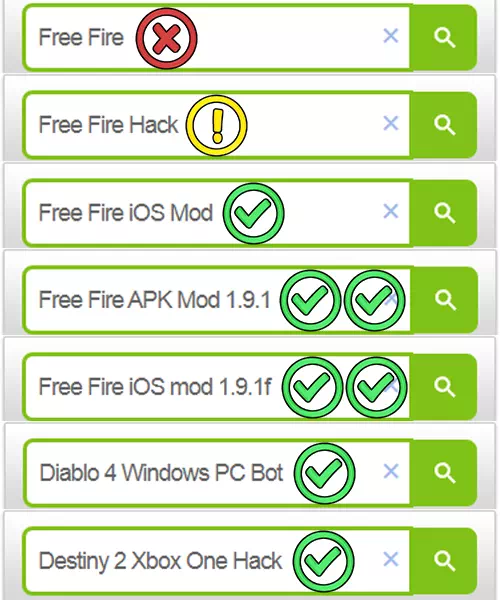 Step-by-Step
Enter the name of your game. Example: 'PUBG Mobile'
Enter the cheat you want. Example: 'MOD APK', 'BOT', 'HACK', 'aimbot' ect.
Ideally, enter the platform, year or current game version (for mobile). Example: 'Android 0.19.0.1 2023'
Ideally, your search should look something like this: 'PUBG Mobile MOD APK Android 0.19.0 2023' (current version is only necessary for mobile games)
Press search. Download Cheats. Follow safety guidelines.
To find the version number on Android, iOS and PC follow this tutorial.
Download HackerBot APK to access the app more easily on Android.
If you cannot find any cheats, follow the guide below.
Not finding working cheats?
Legitimate, updated and working cheating software does not exist for every game at every time. – If your game is not popular enough, you may need to create your own cheats using memory editing tools, game modification, save editing, data modification, app patching or other methods. You can find the tutorials on how to apply these techniques in our Tutorials section.
 Universal Game Cheating Tutorials
 Android Game Cheating Tutorials
 iOS Game Game Cheating Tutorials
 PC Game Cheating Tutorials
Our in-depth guides for game cheating on specific game platforms may also be able to help you to use universal methods, such as creating bots, scripts and macros, memory editing, emulators and similar techniques in your particular game.
 How to Cheat in Android Games
 How to Cheat in iOS Games
HackFinder - Frequently Asked Questions
Is including a game version necessary? – No, but for many games, online games especially it is very useful to find a cheat for the current version of the game, as old ones will often be outdated or detected.
Are the best cheats always #1 in the results? – No, the results are not ordered by quality of cheats, but by how closely they match the search.
Does this work for games on Android / iOS / Windows PC / Xbox / PlayStation / Nintendo consoles? – It works for all games where cheats exist.
Is it easy to install these cheats? – That depends on the kind of cheat you are downloading. Some are extremely easy to install, other are quite difficult, such as APK mods for example.