For Educational Use Only
If you are looking for Cheats, such as Aimbots or ESP Hacks, to use in Plants vs. Zombies: Garden Warfare, then you have found the right place to start. HackerBot.net is an educational site and Community of Cheaters from a whole variety of different online and offline Games. Our goal is to educate each other and share new Cheating methods others. We also promote social cheating: The use of our Cheats to help newbies and week players. We condemn any kind of cheating that can hurt the games we love to play or their communities. If you are looking to BuyPvZ:GWCheats, then you might be interested in our Legit Paid Hack Providers Lists and Reviews that can help you find sellers that deserve your trust. If you are simple looking to DownloadFreeCheats or want to share your own hacks or aimbots with our lovely users, then you are welcome to SignUp, head over to our Forums and GetStarted.
Find Legit Garden Warfare Hack Providers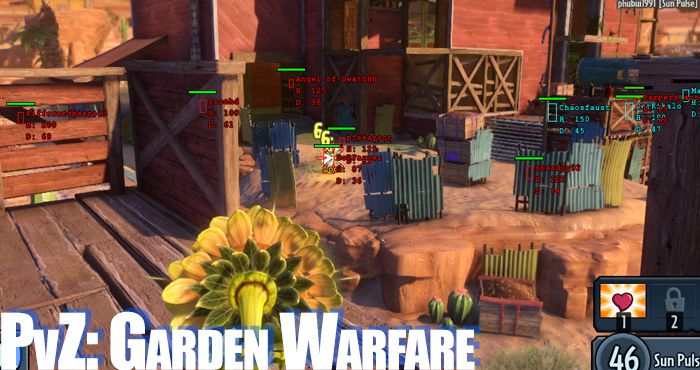 PvZ: Garden Warfare Cheats
Cheats in Plants versus Zombies: Garden Warfare are literally just any and all means that allow you to farm coins, achievements, levels and kills more efficiently or simply faster. Obviously, there are no integrated kinds of cheats, such as cheat codes, in the game, since this is a multiplayer online shooter and no single player game. However, there are still ways of cheating, but one has to take the initiative and come up with one's own methods. Most cheats for Garden Warfare are software that are generally called hacks or aim bots that change the way the game client works. Hack and Aimbots are without question the most popular and powerful cheats in this game. Now while there are certainly free cheating programs out there on the internet, you need to make very sure that the hacks you use are up to date and undetected at all times, since otherwise you will endanger your account. As always if you want to be 100% sure that your account does not get banned and you are able to use hacks at all times, then you need to subscribe to a paid hack developer. To find legit paid hack providers, subscribe to our lists and reviews. As always please cheat with respect for the game and it's players.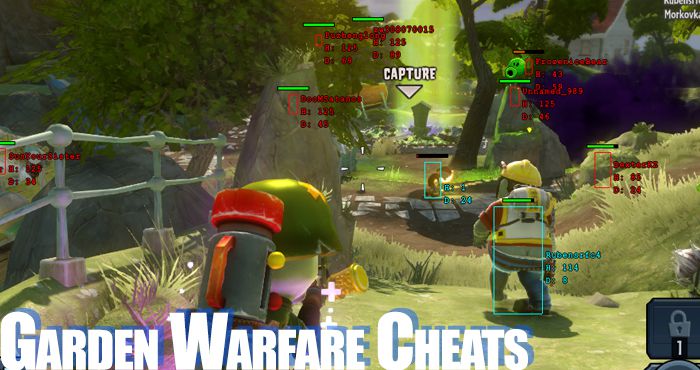 Plants vs. Zombies: Garden Warfare Aimbots (aka. Auto Aim)
Garden Warfare Aimbots are programs that locate your enemies and automatically aim and/or shoot them at the press of one single button. This kind of software is in essence exploiting the fact that the whole map in Plants vs Zombies has to be rendered on your PC in order to display the game to you accurately. By scanning for certain objects, such as players, explosives or turrets, they can automatically aim that these and even shoot them. Aimbots are without a doubt the single most powerful cheat in most shooters and that obviously includes Garden Warfare as well. Now while auto aim software is certainly very effective and even fun to use, one should always be careful and only use it with caution, if one does not want to lose ones account. Also keep in mind that your PvZGW account is connected to your origin account and you may get banned from more than just one single online shooter if you are not careful. You should always try to keep a low profile when using aimbots: Play with respect for other players, don't dominate whole games, set your software to aim slowly to seem more human and generally just try to seem like a really good player instead of being an obvious hacker. – This way you will get reported far less any your account is a lot more save. As always aimbots are potentially detectable, so make sure that the software is up to date at the time of use, especially if you are using a free aimbot. – As always subscribing to a paid aimbot is the safer option. Aimbots work with pretty much all the classes, but are especially effective on the Cactus, Peashooter, Foot Soilders and All-Stars.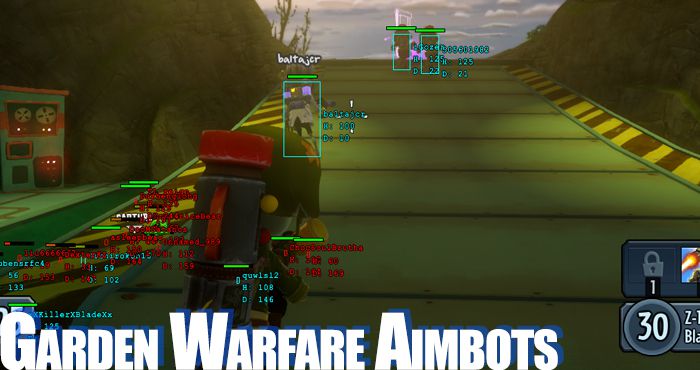 Garden Warfare ESP Hacks
ESP hacks are exploiting the exact same weakness in shooters, such as Garden Warfare, that aimbots do: They locate enemies, allies and other objects on the map and highlight them for you, allowing you to see the position of your enemies even through walls. This kind of cheat is also referred to as a "Wallhack" among shooter palyers. ESP stands for "Extrasensory Perception" and it is basically just the ability to see invisible things. Now ESP cheats are also able to display a heap of other kinds of information to you: The distance to a target, the class of a player, a players health, player names, mines (potato), other explosives (chilly beans ect), drones and they are even able to let you know if enemies are currently aiming at you or seeing you. ESP hacks are especially effective on close-range or melee classes, such as the Chomper or Scientist. However, the ESP hack is obviously also very effective at uncovering invisible enemies, such as the Chompers when they are below ground. ESP hacks for Plants vs. Zombies: Garden Warfare are generally a lot cheaper than aimbots are and if you are a free one, then make sure it is up to date. As the aimbots, ESP hacks are equally detectable and if you are using an outdated product, then your account including your origin user may get banned from all online shooter games. – So please be careful and use cheats in Garden Warfare to have fun and not to harm the game or other players. ESP hacks are generally a lot more fun to use, since they still require you to have some skill, and are also a lot more friendly towards other players game experience.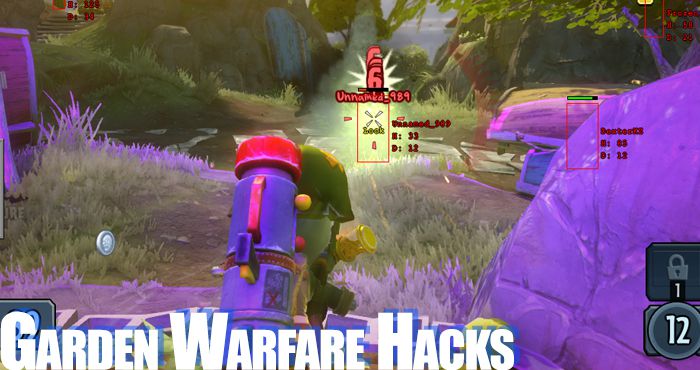 Unlimited Coins, God Modes Packs and Unlocks Generators and Adders for PvZ: Garden warfare
There are no cheats that allow you to get more unlocks, levels, coins, health or packs in garden warfare. The reason for this is that this is an online game. While in single player games you are essentially able to change any values in the game, this is not the case for multiplayer games. Single player games are processed entirely on your machine, allowing you to get all the cheats you want. – Online games however will process most important values on a "game server" to which we do not have access at all. Obviously these important values include your coins, health, unlocks, packs and so on. $so these values are entirely unchangeable. Now anyone that tells you that they have some kind of generator that give you coins, some hack that can get you unlimited health of an adder that can unlock all the items for you, then these people are liars. – They will usually want you to fill in surveys to download fake hack files, making them money, give them your login data or download viruses. So don't get scammed. You have now been warned.