Lucky Patcher APK is an app that allows, as the name would imply, the user to patch/mod apps on their Android mobile device. This tool can also be used to Mod and Hack Games without a root. Since Lucky Patcher extracts the original game APK and then duplicates and mods it, there is no root requirement at all, as opposed to other cheating tools and apps for Android games, which makes it one of the best tools for cheating in games on the platform.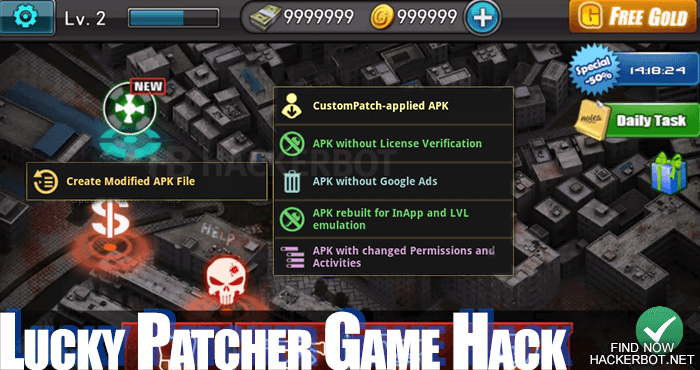 Features:
- Generates modded APKs (hacked games) for you without Root
- Modded Google Play Store for more powerful cheats
- Many Patches for a LOT of games
- Free ingame-purchases through purchase emulation
- Disable game ads
- Emulate databases / servers for powerful game cheats
- Unlimited Gems, Gold, Money, free Stuff for a LOT of games
- Can work on online games as well
Lucky Patcher APK Download:
How to use
Download and install Lucky Patcher
Run Lucky Patcher
Find your game
Tap and either choose 'custom patch', 'level emulation', 'in app purchase emulation' or 'modified APK', all of which allow you to enable cheats in some games.
Chose the patch/mod or option you want to install.
Generate the apk or patch (patching requires root, APK modding does not require root).
Uninstall the Original game, IF you modded the APK.
Install the APK and enjoy.
If you installed a patch instead, then simply play the game without uninstalling anything.
Keep in mind that certain options that Lucky Patcher offers can only be enabled or used if you are using a rooted Androdi device or emulator. However, using the modified / hacked APK option, you will be able to hack a lot of Android mobile games without having to install any kind of Root.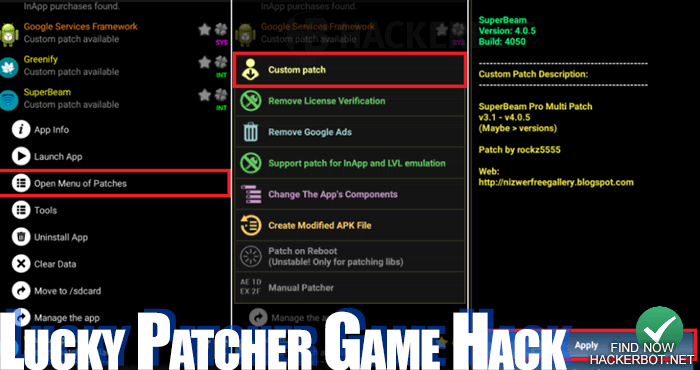 What Games does Lucky Patcher work for when Cheating?
This is one of these tool apps that can work for any game. – However, that does not mean that Lucky Patcher will allow you to hack every game and enable every kind of hack. Lucky Patcher will in fact only work for a section of all games and will only provide cheats inside the cheats that are actually possible.
Generally, cheats will be more powerful in offline games and far less powerful in online games using Lucky Patcher to mod/hack games. However, there are exceptions. But in general unlimited gems, unlimited money, god modes, free items, packs and chests will only be possible in offline single player games or games that store that information on the game client.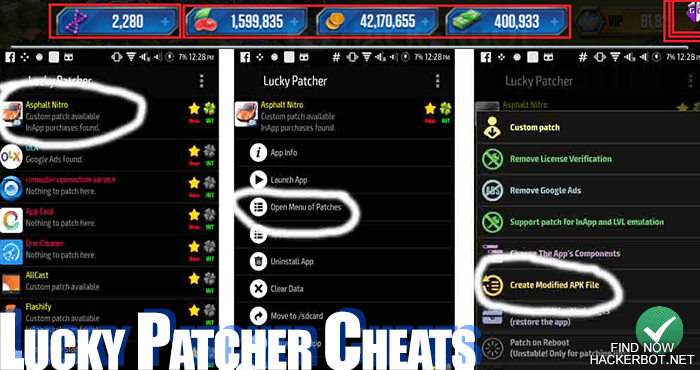 What kinds of Cheats / Hacks / Mods are possible using Lucky Patcher?
Unlimited Health / God Modes
Unlimited Gems / Money / Gold
Unlimited Items, XP, Stats
All Unlocks
Speedhacks, wallhacks, aimbots, other mods
Utility hacks, such as showing information and invisible elements
Automted reward collection other automation and bot like features
The possibilities are enbdless when it comes to patches and mods, but not everything is available for every single game, as always. Make sure you get the latest version of Lucky Patcher to make you get mods and cheats for the latest version of your game.