Freedom APK is the most powerful free purchase app for games on Android at this time. It allows the user to emulate purchases in order to get free stuff in most offline Android mobile games. It will generator a free card for you that allows you to buy gems, gold, money, items and other goodies in your favorite games. Older versions of Freedom APK can run without a root, but newer versions require a rooted device in order to operate properly.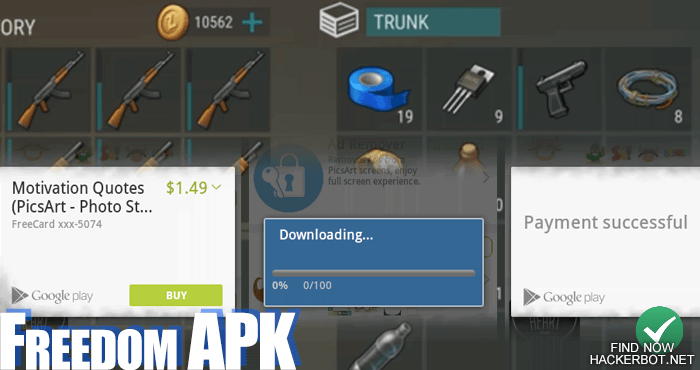 Features:
- Emulates in-game purchases through the playstore. (Free stuff in games)
- Generates a free purchase card for you.
- Disables playstore updates, allowing you to uninstall updates and revert to old google play versions.
- Freecore feature allows to hack even more games.
- Subscription emulation and offline license verification can be enabled for more free premium stuff in a lot of Android mobile games.
- Number 1 Best Tool of its kind (purchase emulation)
Freedom APK Download:
How to use
Download and install Freedom APK
Go to settings and enable 'Disable Play Store Updates'
(Optional) Enable Freecore
(Optional) Restart your Android Device / Emulator / Phone
Go to your Settings > Apps > Google Play and uninstall all the updates.
Start Freedom APK
Choose your game, it will start, you can now get free stuff in the shop!
Enjoy your free gems!
As already mentioned, ROOT is REQUIRED. Also depending on your phone, the earliest Google Play version available to you may be already too late. In this case you need to uninstall google play entirely and install a custom version 9/8/maybe 10 version of google play. Without doing this, Freedom APK is unable to work, because this exploit has been fixed by google play updates some time ago.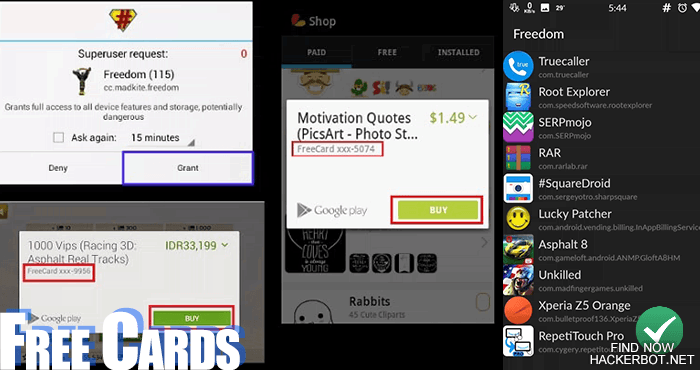 What Games does Freedom APK work for?
It works mostly for offline games and some online games, it works for hundreds of games, but not for all games out there. The best way to see if it works for a particular game is to install Freedom APK and start it up: If your game is in the games list, then it works for that game.
If your game requires a constant internet connection, then chances are that any purchases you make are verified through the game servers and free purchase game hacks will not work for that game. Aka Freedom app does not work for most online games. However, you are free to try none the less, but be warned, because there are reports of people getting banned from online Android games for trying to use Freedom APK while having the game open. However, I cannot confirm that personally so far.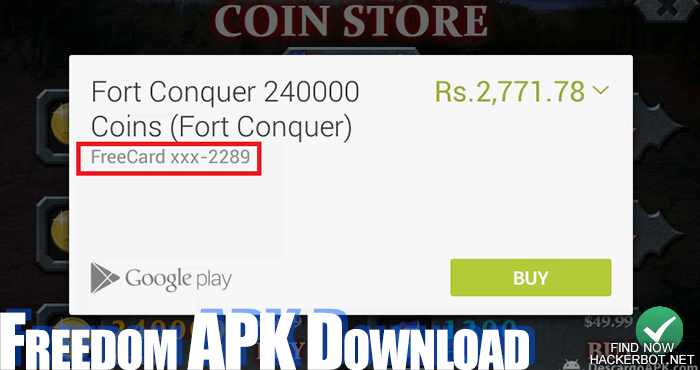 Is there any way to Use Freedom APK with NO ROOT?
Yes and no. The only way to get Freedom APK to work without a root is to use an old Android version, old Freedom APK and then avoid any internet connection to avoid updates. But this way you will not be able to use this tool to its fullest effect and won't be able to cheat in any more modern games.
You may want to try modded APKs instead if you are really not looking to use any method that requires a root for you game hacking needs, because there is really no chance that you will be able to run Freedom app without a root successfully.