For Educational Use Only
If you are looking for Candy Crush Saga Cheats, such as Hacks or Exploits, in order to get more lives, gold bars, tickets or boosters, then you have found the right site to get your started. HackerBot.net is an educational website for Game Cheating of all kinds and is used by gamers all over the world. If you are looking to Buy Candy Crush Cheats, then check out our Reviews and Legit Providers Lists in order to find trustworthy providers providing Software of high quality. However if you are simply here to Download Free CC Cheats or want to share your own stuff with us, then you are free to Sign Up, head over to our Forums and Get Started.
Find Legit Online Game Hack & Bot Providers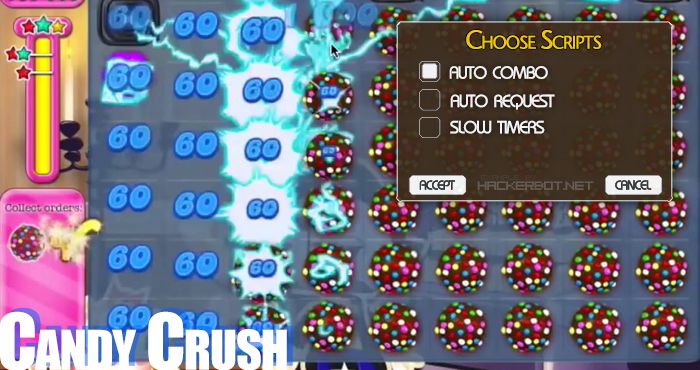 Candy Crush Cheats
Cheating of Candy Crush is to use any kind of software or methods in order to get more Lives, Tickets, Boosts and play more effectively, get more combos and better score in every level than would usually be possible. Now it has to be pointed out that not every single exploit and cheat will work for all platforms. For example cheats that may work on PC (Facebook) might not work forAndroid and Apple devices. The most important thing to keep in mind is that in game items and currency cannot possibly be "hacked" or changed using any kind of tool. – This will be explained in more depth below. So items like gold bars, lives and boosts cannot be hacked at all, but there are certain exploits that allow you to get more than you would usually get. Now if you are relatively new to Cand Crush and want to cheat, then we recommend that you play the game on Facebook instead of your mobile device. This particular social game is most exploitable on PC, unless you got a rooted mobile device (you probably do not). Also keep in mind that the game is designed to test your patience, especially at the later levels (200+) and paying money for lives and boosts is what the game wants you to do. We are not saying that you should not spend money on the game. – If you like the game, then do support the developers, but this particular game can really get you to spend 1000s of dollars if you get addicted. - So instead of spending your whole capital, you might want to have a look at some exploits that can be used in Candy Crush instead.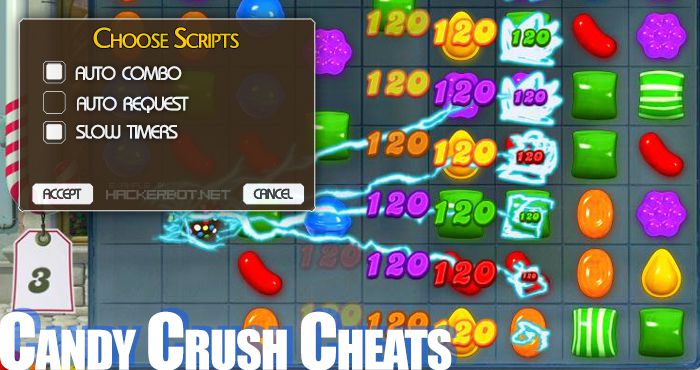 Methods to Get More Lives (Cheats)
Getting more Candy Crush lives is easiest on Facebook: If you really want to get into Candy Crush on Facebook, then you might want to make an account that is dedicated to playing CC. Why? – Not only will you annoy your real friends, but having a separate account will also allow you to join a Candy Crush friends network (Facebook group) that will basically allow you to get Unlimited Lives for Candy Crush by requesting lives from your friends. All you basically do is create a separate account on facebook to play CC, then search for groups that are dedicated to Candy Crush, search for "candy crush friends" or "candy crush boards" ect. Join the group and ask people to add you and tell them you are a daily player. Now the problem about this method is that Facebook will delete your "fake Account" if you are doing it wrong. So in order to make sure that you do not get banned from facebook, do not add more than 5 friends a day, do spend a few cents on the game and only accept friends that are somewhere near you. That means just pay 1$ per PayPal to buy stull in Candy Crush to show Facebook that you are a real person and only accept friends that are at least from the same continent and language as you. So Americans accept Americans, ect. The spending money is not 100% necessary, but will basically ensure your account is save and also support the developers (not that they would need it at this point). This way you can amass a whole lot of Candy Crush Friends and ask them for lives, giving you basically unlimited lives. – This is not strictly speaking a "cheat", but it is a way to exploit the system to achieve an infinite lives cheat.
For iOS and Android there are ways to get more lives as well by manipulating the time of your mobile device. All you basically do is to set your clock to 2.5h later and you get 5 lives. – This has now been working for a long time for the Candy Crous you get on the Google Playstore and App Store. We do however expect that this exploit on mobile devices will be patched sometime soon. But again, you can simply use the same exploit used on Facebook on your mobile device.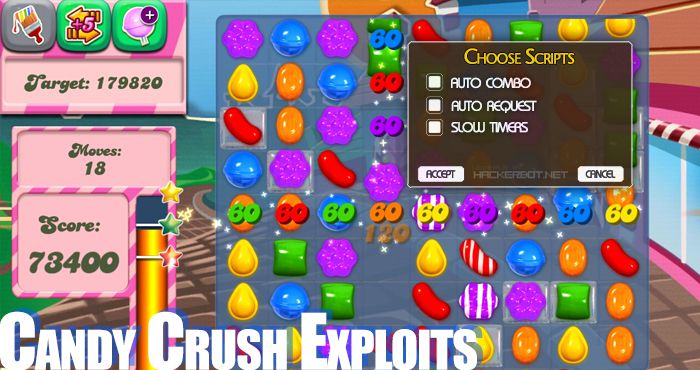 Unlimited Time in Candy Crush
This cheat will only work on PC and rooted mobile devices. We do not recommend that you root your mobile device if you do not know 100%ly what you are doing, since it can potentially arm the device. So the way the timer works is that it is not being processed on the server, but on your device (PC, mobile) and can therefore be frozen using a speed hack, such as Cheat Engine and similar apps on mobile. Now obviously not a lot of levels do actually have a timer, but especially on higher levels, the levels with a timer can be unbelievably stressful and hard to complete. So a 0.5 speed hack will essentially give you double the time you need, 0.25 will give you 4 times the time and so on. Theoretically there would be a way to get Unlimited Timer time, but that kind of hack would be a lot more complicated. So essentially all you need to do is find the game process or the flash player process on PC (Facebook) and ten apply the speed hack to the process and enjoy. As for mobile devices there are multiple apps that will allow you to change values and speed hack the Candy Crush app as well, but will require you to have a rooted device in order for the hack software to access the CC app.
Combo Alert Software and Bots
There have been many rumors of software that is able to highlight any possible combinations in Candy Crush. – That means software that will highlight exactly where it is possible to create striped candies and other combo candies. While this definitively does sound like a piece of software that theoretically can exist and is certainly possible to program, we have never seen it in action. The only platform that would really allow for this kind of software to work would be the PC. Candy Crush does already have an integrated highlight system that will alert you to 3 combo candies and it is more than likely that this function could be exploited to highlight all 3 combos and maybe even more complex candy combinations. Theoretically it would even be possible to create a bot (automated software) to play candy crush pretty effectively. – However, so far not bot developer has realized that this niche does exist and we are still waiting for the first scripts to get developed.
Unlimited Gold Bars, Tickets, Lives and Boosts Hacks, Trainer and Generators
There are a few things that cannot be "hacked" in Candy Crush due to the fact that certain values are not processed, stored and saved on your PC or device, but on the Candy Crush servers. – These values cannot be accessed or changed at all. The only way to change your gold bars, lives or boosts would be to hacking to the actual server which would be illegal and is a practice we do not condone. So unless you know a CC game admin or moderator there is simply no way to get more gold bars and other goodies without paying money or using some of the exploits mentioned above. Should you trust the people that offer you "unlimited live hacks" or "gold bar generators" and other impossible cheats and ask you to fill in surveys, download malware or give them your login information? – Well you will figure that out for yourself.