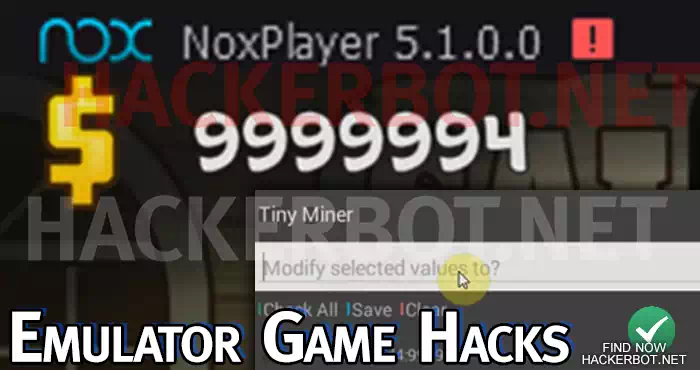 Emulation is a process whereby a less powerful and usually more closed game system, such as a game console, is simulated or rather 'emulated' on a usually more powerful and more open system, such as a PC. – Emulators, the software that replicates the functions of the console or device, are generally run on extremely open systems that allow for maximum customization and access by the admin, making emulators the perfect environment for game hacking and game hacks, whereas the walled-garden, closed system of the original gaming device may be less suited to such endeavors.
How it works
Android, iOS, Nintendo consoles, Xbox, PlayStation are all to some degree walled-garden closed systems, which means they do not grant the user root / admin access to the computer/device they purchased. – Instead the device has to be hacked and/or modified in order to run unsigned / unapproved software or software that has root access, making game hacks extremely difficult to run on some if not most these gaming systems.
This is where emulation and emulators enter the chat: Not only do most emulators run on gaming systems that allow for maximum modification, game hacking and data manipulation, such as Windows PC, Mac or Android, but many of them will also offer advanced tools for cheating, such as gameshark codes for Nintendo consoles, scripting / macro recorders for Android, easy implementation of mouse & keyboard controls and of course the inherit ability to use game hacking tools and memory editors on the emulator itself, making cheating not only possible, but comparatively easy.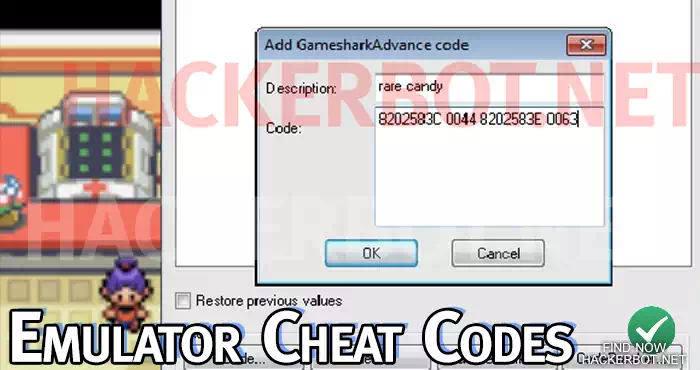 Emulators & Game Bots
Another extremely underrated but powerful way of using emulators is to create automated game bots more easily: Hereby emulators are used to be able to play console or mobile online games on a PC, allowing one of the numerous macro recording and editing programs to automatically input commands and play the games automatically, farming unlimited game money and resources over time. – While the setup for this cheating method is quite complex for someone that is new to emulation and macro bot creation, it is arguably and quite objectively one of the most powerful game hacks for any mobile online game that requires any kind of farming or grinding for resources. Some emulation software even comes with built-in script and bot / macro functionality, making the process even more streamline and accessible to new cheaters.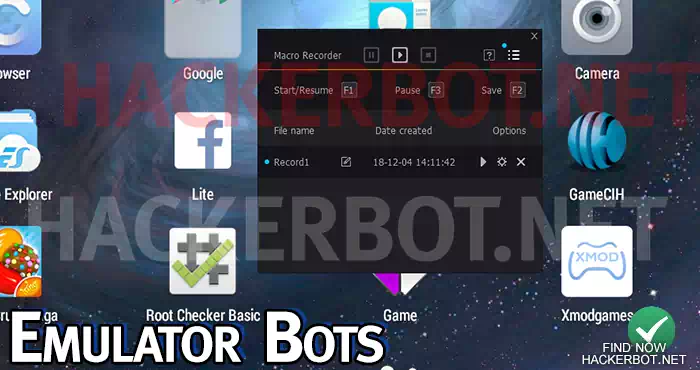 Top Best Emulators
Different systems require different emulators. Some gaming systems, operating systems and consoles have legitimate emulators and some do not. We define a real emulator as one that is able to run all games and apps the same way the original console or device can, but of course is allowed to come with additional advanced features, such as game hacking features, scripting extensions, speedhacks and similar additions that as game hackers we of course appreciate. These programs will often be available on Windows PC, sometimes on Mac and other platforms and will often be VMs (virtual machines):
Android emulators

do exist

: Nox, MeMu, BlueStacks are the best ones for cheating in games.
iOS emulators

do not currently exist

: Ones you find in Google are fake, are no VMs, do not actually emulate iOS, as the code has not been made available, as is the case on Android for example.
Nintendo Console emulators

do exist

for anything from Gameboys, Nintendo Switch, Nintendo 64, GameCube ect. Probably the gaming console where emulation is the most common and easiest to get game hacks and cheats working only using emulators.
PlayStation & Xbox emulators

do exist for older consoles

, but almost never for current-gem consoles, as they are not only too advanced to be emulated on PC, but getting emulators working for these consoles usually takes many years as well.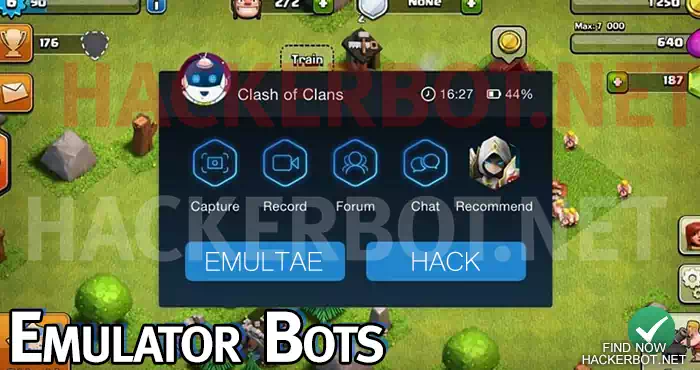 Is there an actual iOS Emulator?
Seeing that there are many Android emulators, why is there no iOS emulator? – Well it is simply because Google / Alphabet / Android have made the source code for their operating system available to developers, while Apple have been legally obliterating anyone trying to create an emulator that would allow users outside of the Apple iOS walled-garden to access features and apps.
Anything you find online searching for 'iOS emulator' will inevitably be fake and will simply present you with a Apple-looking interface and run apps through browsers or similar mean. You will not actually be able to install appstore apps, jailbreak the emulator and run game hacking tools like you would on an actual iOS mobile device. We here at HackerBot have been waiting for the release of a legitimate iOS emulation VM for many years, but at this point it is extremely unlikely that anything like that will ever exist.
Advantages of Emulation for Game Hacking
We have already mentioned some of the awesome advantages that emulators have to those looking to cheat in games, especially online games, but here is the complete and comprehensive list of reasons why you should look into some emulators for the system that you are trying to play games on when looking for cheats:
Advanced integrated features: speedhacks, cheating features, memory editors, multibox and macro tools ect.
No risk or bricking you actual physical device when trying to root, jailbreak or hack the gaming device.
Mouse and keyboard controls are superior to any console or mobile controls 95% of the time, grating an unfair advantage straight away. Many emulators help facilitate the mouse & keyboard control scheme too.
Testing mods, game hacks and other software on a VM with no risk to your actual device. If a download contains malware or is outdated, your actual main physical device is unaffected.
Emulators can be used along with marco and script recording software to create automated farming bots quite easily, which is especially useful in online games.
Often emulators will have better performance than your gaming device, since they are run on a PC, which is often a much more powerful computer overall.
You can save money, as you don't actually have to own a physical device if you have an emulator that can run the same software.
Sources / References
[1] https://en.wikipedia.org/wiki/Emulator
[2] Check if emulators exist for any device: https://emulation.gametechwiki.com/index.php/Main_Page
[3] https://hackerbot.net/tutorials/411-game-bot-creation Game Bot Creation using Macros
[4] https://hackerbot.net/wiki/11-game-hack
[5] https://hackerbot.net/wiki/37-game-bot