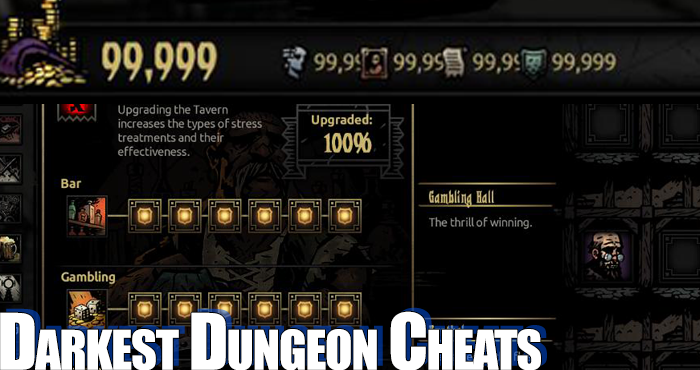 This is a short tutorial on how to cheat in Darkest Dungeon. The manual cheating method will require you to use Cheat Engine, but will work for all versions, updates and releases of the game including the Steam version, GoG and others. Keep in mind that trainers will not always work for all versions of the game and often only work partially for certain updates if at all.
How to do it
1. Get and install Cheat Engine
2. Click the PC icon and connect to the Darkest Dungeon game process
3. Scan for your money, heirlooms, hp, stress ect
4. Change the value in game and scan again using next scan after changing to the updated value
5. Repeat this process until you are left with 10 values or less
6. Change or freeze the values and you got yourself unlimited money, heirlooms ect
For a more in-depth lesson on how to do this, check out the video above or go here.
Darkest Dungeon Values
Money / Gold = 4byte
Heirlooms (deeds, portraits, crests, busts) = 4byte
Health in Dungeon =  4byte (will have to be rehacked in every dungeon)
Stress levels = 4byte
Light = 4byte (need to freeze the game using speed hack)
Keep in mind that this game is a roguelike and simply enabling a god mode and steamrolling the game is not as much fun as you might think. I would recommend you get yourself unlimited money and then play the game like that, since you will still need to farm heirlooms to upgrade your buildings and that way the game stays fun and you still feel the sense of achievement that comes with this kind of game.
Using trainers to disable the stress mechanic can also help to make the game a bit less unbearably difficult if you want to save some time.
The game is currently being updated a lot even after release and most trainers stop working partially after mere days, so the manual hacking method may be useful to steam users whose games get updated automatically.
Trainers Download  
Trainers are usually made for a specific version of the game and will usually stop working after some time. If you are unable to find a working trainer for your version of the game, try updating or hacking the game manually, which is quite easy as values are not hidden or encrypted at all.
[HB Megatrainer] https://hackerbot.net/forum/trainers/2005-trainer-darkest-dungeon-god-mode-unlimited-money-easy-kills-no-stress-cheat