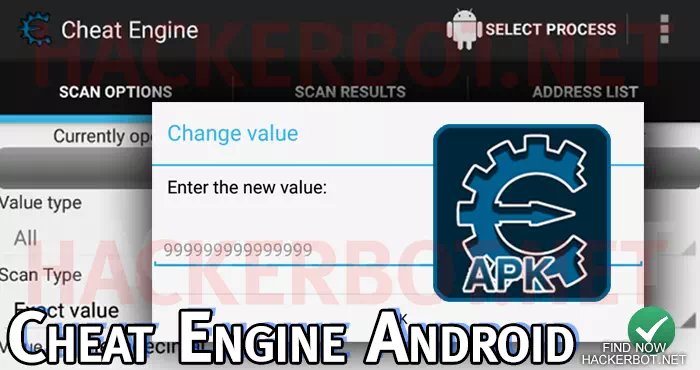 What is Cheat Engine APK for Android?
Cheat Engine APK just like the PC version is a game hacking application developed by Dark Byte and allows you to modify game memory, change values, get unlimited money, skill points, infinite health and similar cheats in Android mobile games. The app is pretty old, so if it does not work for you, GameGuardian or Lucky Patcher may be better alternatives.
How to use Cheat Engine APK for Android
Download a legitimate version of Cheat Engine APK.
Install the APK, make sure to enable unknown sources in settings > security > unknown sources.
Start Cheat Engine APK.
Select 'Launch ceserver and connect locally' (if you have a root).
Tap 'SELECT PROCESS' and select the game you want to hack.
Select Value Type 'all'
Enter the value (money, gems ect) you want to modify.
Then hit 'Scan'
Go back into the game and change the in-game value (spend money, take damage ect)
Back in Cheat Engine APK enter your changed value and hit 'NEXT'
Repeat this process until you are left with ideally one value, but less than 10 values at least.
Add the memory address(es) corresponding to your in-game value to your address list.
Tap 'ADDRESS LIST'
Tap your value(s) to change them to 999999999 or whatever you like.
Enjoy unlimited money, gems, health ect.
Important Links:
How to use Cheat Engine APK without Root
Follow the guide above, but instead of simply launching Cheat Engine:
Download a virtual environment app, such as Virtual Space on your Device.
Add both Cheat Engine APK and the game you want to hack onto the virtual environment.
Then start up Cheat Engine APK and your game from the virtual environment and use as described above.
Enjoy Cheat Engine for Android APK with no root.
Does Cheat Engine APK work for Online Games?
Usually not to the degree that most people are looking for, as online games use online servers to process important values, such as money, health, gems, skill points, EXP and similar data. We recommend using HackerBot APK instead for online Android games. But memory editors, such as Cheat Engine for Android are unable to modify game servers at this time.