HACKERBOT.NET - PC AND ONLINE GAME HACKS, BOTS & CHEATS
If you are looking for Cheats, Hacks, Trainers or Bots to use in PC Games, then you have found the right place. HackerBot.net is a site dedicated to discussing, developing, sharing, publishing and reviewing Cheats for Online and Offline PC Games of all kinds. Our forums allow you to share your own Programs and Methods with other Cheaters and to Download Cheating Software developed by other members of our Community. We also focus on providing Information and Education to people that are looking for Cheats in general or for specific Games. Trustworthiness is our goal.
If you are looking for MMO and MMORPG Hacks, then head over to our MMO Section and get the latest hacks and farming bots. For those of you playing Online First Person Shooters and trying to find ESP hacks, aimbots and similar cheats: Our FPS Section will be quite helpful for you. For cheats to use in single player PC games, check out our PC Game Cheats & Trainers Section. Enjoy your stay and have fun cheating.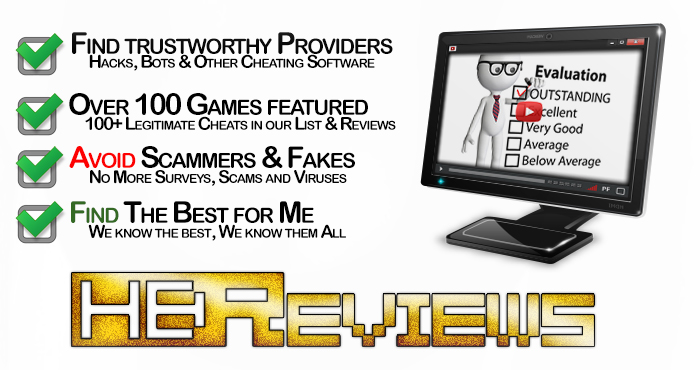 Why We Cheat
The main reason why we are cheating is the same reason why we play games: To have fun. The other reason is that some games these days are requiring us to spend huge amounts of time farming and grinding for unlocks, gear or currency. We want to have fun with games, not make them our job and that is the second reason why we cheat in PC games.
We Love Games and Do Not Want To Harm Them
While other cheating sites may have differing opinions on this issue: Here on HackerBot.net we are not cheating in order to dominate our fellow players. We are not looking to satisfy some twisted need to dominate and bully others. We are cheating with the good of other players in mind and without harming them or the games we are playing. If we find game breaking bugs, we report them to the developers instead of using them. If you do not agree with our ethics, then you are free to leave the site.
Trust is our Goal
This site is trying to be a trustworthy source of information about a shady topic. Game hacking is and has always been a shady niche in the gaming industry. Cheating in games has been around for thousands of years and that is not a bad thing. We are trying to give people that are looking to cheat in games information that helps them understand the subject and points them into a direction that is of no harm to them or the people around them.
HackerBot.net Past, Present and Future
The site was started by Samuel T. Steiner in early 2013 and at first only focused on a very few MMO games. The site grew quite quickly and began to publish PC game cheating content and Shooter content by the end of 2013. In early 2014 HackerBot.net was acquired by LittleSquid GmbH and continues to grow up to this very day. – In the future we aim to be the undisputed #1 source of information when comes to online game cheating. We aim to be the most trusted player in what is a very shady niche at the best of times. We also aim to popularize cheating without hurting: Cheating in games we love in such a way, as not to hurt the game, its community or developers.
Why is HackerBot.net an Independent Site?
HackerBot.net does not affiliate with any hack or bot developers or cheat providers of any kind. But why is that the case? Wouldn't we make a lot of money, affiliating with hack/bot developers? – Yes that is correct. If HackerBot was to affiliate with actual providers, the profits would be immense. However, our goal is to be a trusted source of Information and how can we be trusted to provide accurate information, if our income depends on a certain hack seller? We deem it therefore necessary to stay independent in order to provide you with the most value possible.
Official Statement about Aimbots and ESP and other Shooter Hacks/Cheats
While our statements about Aimbots and ESP Hacks in specific articles on this site may vary due to them being written at different points in time, this is our official statement about the use of Aimbots and ESP Hacks in Online Shooters: "If used correctly and with respect for the game and its players, an aimbot/ESP user cannot be differentiated from a skilled player and therefore does not hurt the game any more than he would. (We assume skilled players do not hurt the game.) We currently do everything we can to impress upon our users the importance of respecting the games they play. We want our users to feel like benevolent superheroes that use their Special Abilities for good rather than evil." Concerning hacks outside of ESP and Aimbots: "We condemn any hacks that are truly game breaking and in their nature hurtful to a game and its community. An example for such a hack would be so called vacuum hacks that allow players to spawn all enemies in front of them and kill them easily. – This kind of hack is in its nature hurtful and even destructive to the game and its community and we urge our members to stay away from this kind of hack."
Official Statement about the Use of Bots and Hacks/Exploits in MMOs and MMORPGs:
While our statements about Bots and MMO Hacks in specific articles on this site may vary due to them being written at different points in time, this is our official statement about the use of Bots and MMO Hacks in Online Games: "If used correctly, a user running a MMO farming bot will behave not much different from a person that NoLifes a game (plays it with a huge passion). It will do the same quests and tasks that a human would do to farm and hurt the game no more than the human player would, but with less damage to the actual players life (social life, personal hygiene, mental health ect)." Concerning the use of Bots to sell virtual items or currency for a profit: "We do neither condone, nor condemn this kind of operation. On one hand we know that it can potentially hurt the profits of a game developer or publisher, but on the other hand we believe in a free market where supply and demand dictate the price and since the developer has the infinite supply, he will win either way. We will side with whatever an official government court in Switzerland would rule in this case. Also obviously, we do not partake in any RWT operatins." Concerning the use of hacks and exploits in MMOs and MMORPGs: "Most hacks and exploits found in current MMOs and MMORPGs, do not noticeably harm the game. However, if the hack or exploit is hurting the game, then we condemn it and do not recommend it to our users. For example if a duping exploit ruins a games economy, we will urge our members not to use it as soon as it becomes evident that there will be damage done by using it any further."
Official Statement about Cheating in Games and Multiplayer Games
While our statements about Cheating in specific articles on this site may vary due to them being written at different points in time, this is our official statement about the use of Cheats in Single and Multiplayer Games: "Cheaters rule the World: The most successful bodybuilders are on steroids. The most successful politicians are liars. All the wealth in the 1st world is built on the dead corpses of 3rd world children. The most powerful nations kill tens of thousands of innocents every month. The most successful companies are buying wells in Africa. The greatest heroes have created the villains they claim to beat themselves. – Everywhere you look: It's not the legit folks that win, it is the cheaters. Now that does not justify anything, but at least if you cheat in a video game, no children die." – "If anything, cheaters in games might alert you to the fact that that sweet, sweet #1 spot in the rankings will always belong to the dishonest people and maybe, just maybe you will finally wake up and see the world for what it really is."
"I do realize that this is a very philosophic approach to explaining cheating. However, it is really the only way I can describe it. – It is doing what man has always done ever since the dawn of time. And if any of you have never cheated, then you are free to cast the first stone, I guess."